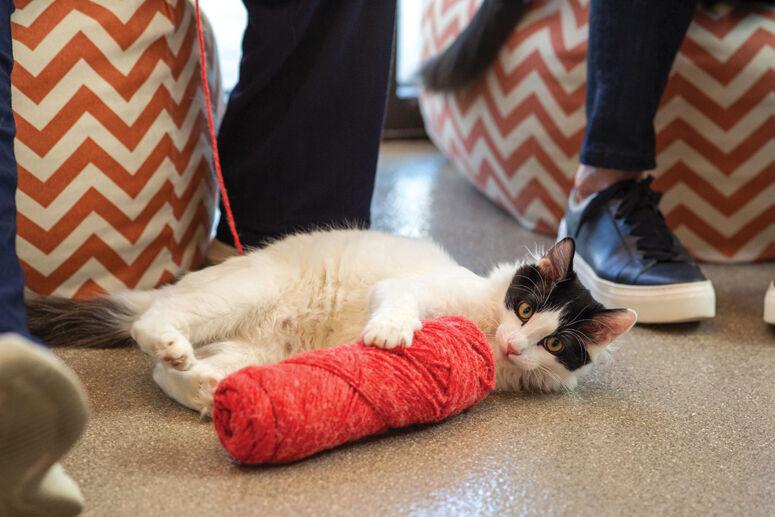 Whenever Jennifer Barth moves to a new area, she goes straight to the animal shelter. People who volunteer at animal shelters are the type of people she likes to spend time with. 
"Everyone should have a cause," Barth said. "It's a good thing if you can help your community with your cause."
With Mountain Humane, Barth started the Cat Cozy Club, which meets at Christie's Cat Cafe every second Wednesday of the month. This month, they meet today, Oct. 13. 
Participants use donated yarn to knit or crochet cozies for the cats, which are usually squares of about 18 inches by 18 inches the cats take to their sleeping areas. When the cats get adopted, they bring their cozies with them to their new home.
"It's kind of like their luggage," Barth said. "It helps their transition. It's some place that's familiar to them that feels comfortable."
Mountain Humane Marketing Manager Heidi Hayes lauds the creativity of their volunteers. 
"Jen saw an opportunity to create a fun social event that also addresses our ongoing need for warm, homey cat blankets," Hayes said. "Our cat condos and cubbies are famous for the rainbow of cat cozies inside each of them all due to the hard work of our Cat Cozy Club volunteers."
Many people have difficulty finishing their cozy in one session because the cats love to play with the yarn. 
"We're being a presence in there for the cats," Barth said. "They love it. By the time the club is ending, they're all ready to go to sleep."
Cat Cozy Club has a Facebook group where they share patterns and crochet-alongs. 
"The cats don't care what they look like," Barth said. "They don't even see in color. It's just the cozy part of it."
There is no set agenda. Everyone is invited to come, hang out, play with the cats and enjoy some coffee. 
"There haven't been snacks for a while because of the dumb virus," Barth said. 
"I think it's good to get your kids involved, so they can start learning that you have to give back to the community you're in," Barth said. 
During meetings, members of the Cat Cozy Club take pictures and share them on social media. Nearly every time they come back, it's an entirely new group of cats. 
"We're helping the cats to be balanced," Barth said. "They're getting attention. They're getting socialization. When people come to visit them, they're not so shy. That way, they are more likely to get adopted."
About 700 cats per year get adopted from Mountain Humane per year. Dogs and cats from overcrowded kill shelters from places like Sacramento and Texas get flown to the Wood River Valley. For their brief period here, however, Barth wants them to be as cozy as possible. 
This activity is great even for people who like to craft and/or are just looking for something social in the wintertime between skiing. 
"Believe it or not, even if you're not a cat person, you might become a cat person because they're really, really cute," Barth said. "When you start to learn their personalities and how they interact with you while you're doing your crafting, it's pretty fun."