In May 2004, Charles Brandt—former homicide prosecutor and chief deputy attorney general of Delaware and now a Ketchum resident—published "I Heard You Paint Houses," a nonfiction tell-all account laying to rest the infamous mystery of what happened to Jimmy Hoffa.
The labor union leader disappeared in 1975, never to be seen or heard from again. Hoffa's known ties to organized crime sparked a massive FBI investigation, not to mention countless conspiracy theories and urban legends.
"I Heard You Paint Houses" closes the case with the testimony of triggerman Frank "The Irishman" Sheeran. Over the course of five years, Sheeran personally related his account of the murder to Brandt.
"I got him out of jail," Brandt said. "That's how I got to know him. When he got out he said to me, 'I read your book, "The Right To Remain Silent," in jail. I liked it a lot. I want to tell my side of the story. I'm tired of being accused in all the books on Hoffa.' Well, as soon as he said he wanted me to write a book clearing him, I knew he had something on his chest that he needed to get off."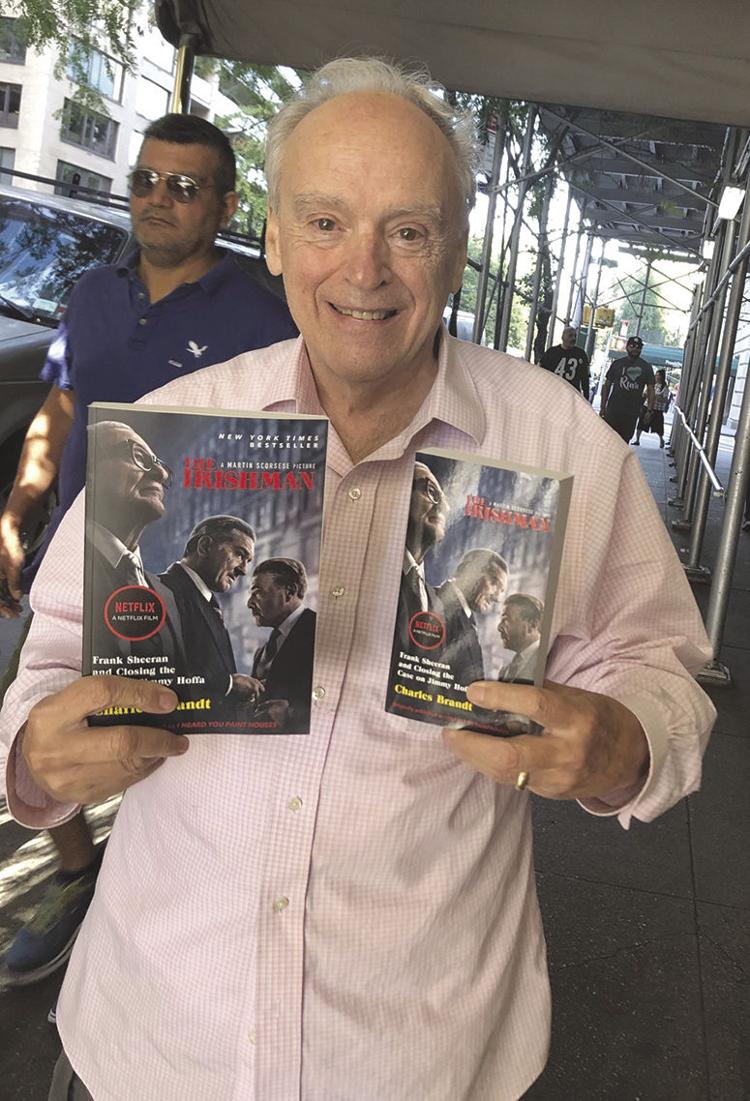 The book Sheeran mentioned, "The Right To Remain Silent," is a 1988 novel by Brandt that details and dramatizes both the art of interrogation and the ways a series of Supreme Court decisions from the 1960s and '70s restricted the powers of the police to get confessions and convictions.
In his role as a prosecutor, Brandt became a reigning authority on interrogation, leading seminars and, indeed, literally writing the book on the subject.
"Interrogation is a journey, if practiced right, from gaining trust to unburdening," he said. "In the unburdening, you point out to him what is happening physiologically. Getting it off your chest is a real phenomenon. You point out to him, 'Didn't that feel better?' It encourages him to tell more over time."
And tell more Sheeran did. Several years would pass from their initial meeting before the professional hitman would confess to Brandt that he pulled the trigger on Hoffa, but in doing so he all but closed the book on a mystery that captivated global public attention for decades.
Mafia hits—even against prominent public figures like Hoffa—were accepted parts of life by the '70s, but Brandt explained what was different about Hoffa's case.
"Crime became organized in America in 1931 in a meeting attend by Al Capone, Lucky Luciano—all the big boys. They created the mafia commission, the ruling body of the mafia, and all of the rules relating to the mafia in America.
"All that came about in 1931. Even before that, but certainly since then, we had become used to open street assassinations. Albert Anastasia, Little Augie Pisano, Crazy Joey Gallo—we were used to these open and above-board killings."
Some of those mentioned figure into "I Heard You Paint Houses."
"When you kidnap and kill, it takes the violence up another notch because of the hardship it imposes upon the family," Brandt explained. "You enter the world of malicious plotting. The family doesn't have a body to bury and, more importantly, the family doesn't have an estate to administer. It took seven years to declare Hoffa dead. It adds a viciousness to the crime that implies—as this case, this book, will show—that somebody with a vendetta against Hoffa did it, someone who wanted to punish Hoffa and his family."
That viciousness, and the fact that the murder involved a kidnapping, made the Hoffa case a federal matter, and prompted the FBI to hire an additional 200 agents to solve the mystery. Of course, they were ultimately unsuccessful in doing so.
In finally offering this solution to the crime, Brandt's book captivated audiences almost as much as Hoffa's disappearance did, quickly becoming a New York Times bestseller and, just a few years after its initial publication, garnering the attention of some of Hollywood's greatest artists.
After spending about a decade in development purgatory, the film adaptation—retitled "The Irishman"—has just premiered at the New York Film Festival. Directed by cinematic heavyweight Martin Scorsese from a script by Oscar-winning "Schindler's List" scribe Steven Zaillian and boasting a cast of four Oscar-winners—Robert DeNiro as Sheeran, Al Pacino as Hoffa, Joe Pesci and Anna Paquin—plus Oscar-nominee Harvey Keitel, the film has already been tipped as a heavy Academy Award contender this year. It is currently sitting pretty at 100 percent on Rotten Tomatoes.
Brandt—who, in a move unusual to Hollywood, was invited to advise the production team during the filmmaking process—just returned to Ketchum from the world premiere, and said, "The movie is so faithful to [Sheeran's] story in every way. It is a Mona Lisa masterpiece, perfect in every way."
In conjunction with the film's upcoming limited theatrical release, a new movie tie-in edition of "I Head You Paint Houses" will be released next Tuesday, Oct. 15. This edition is retitled as "The Irishman" and features Pesci, De Niro and Pacino on the cover.
To celebrate "The Irishman," Chapter One Bookstore will host a release party and book-signing event next Thursday, Oct. 17, from 4-7 p.m. at the Hotel Ketchum, 600 N. Main St.
Copies of "The Irishman" will be available for purchase and Brandt will be present to sign books and chitchat with readers. This event is free to attend. Questions can be directed to Chapter One by calling 208-726-5425.
"The Irishman" [the film] hits theaters on Nov. 1 before heading to Netflix for streaming on Nov. 27. Check back at the Mountain Express in a few weeks for the full story.