As March drew to a close, unfortunately so did most businesses in the county. The governor's COVID-19 "shelter in place" order wrought the shuttering of stores, schools, restaurants, bars and more.
While people could no longer congregate as normal, this order wasn't a complete death sentence for all activities, as many moved online.
This is exactly what Jenni Conrad, owner of The Mint, did just over a week into isolation, taking one of her establishment's most popular weekly occurrences to social media—and reaching a much wider audience than anyone could have anticipated.
For about the past year, every Wednesday night at The Mint has been a Western Wednesday. Residents and tourists come in droves for weekly line dancing and country swing dance lessons led by Conrad and Dani Theobald.
Obviously crowds of 40 or more dancing in unison don't adhere to social distancing rules, so Western Wednesdays was out the door in its traditional form. By April 1, though, it was back on its feet in a new iteration.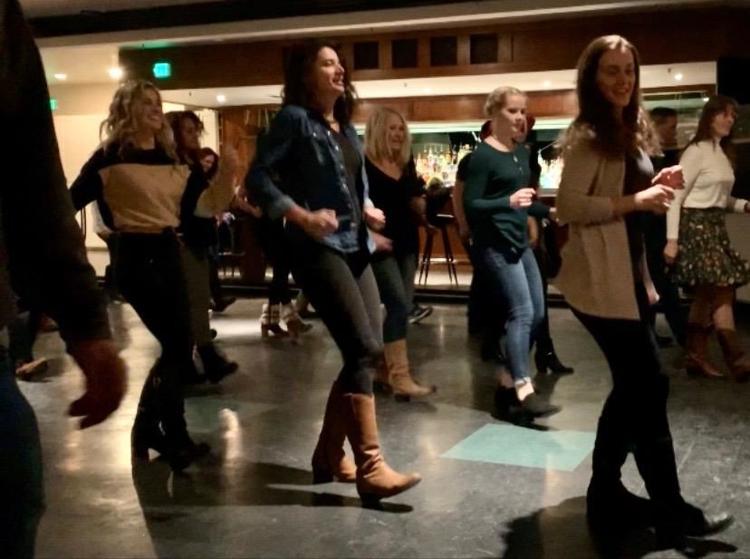 Every Wednesday night at 6 p.m., Conrad—now joined by Theobald—has been live-streaming from The Mint on Facebook. She and Theobald are the only ones on the dance floor now, but as they teach and dance the Facebook video view count shows that they're not alone.
More than 1,000 people have watched that premiere April 1 edition of the new digital Western Wednesdays. Subsequent streaming events for April 8 and April 15 have drawn numbers in excess of 700 views each.
"More than 700 views is just incredible," Conrad said. "We normally get 40-plus people here—the dance floor is packed—but the response online has been amazing. People email and message me on Facebook to say they're doing it in Washington and California, all over the place."
Not only has the geographic spread of participants expanded, but Conrad also noted new age groups joining in. Due to Idaho's liquor laws, children are not allowed to take part in line dancing at The Mint, but of course anyone can join in from home.
Conrad said that things are not quite the same without a big crowd in the space. She and Theobald typically play off their participants, adapting their teachings and music selections based on the experience of the crowd. Normally, they can see what's working and what isn't, but, she noted, the ability to pause and replay the video brings an added bonus.
"It's great exercise and good for your brain to learn something new," Conrad said. "We hope to continue it for a while, keep the momentum going. On a typical Wednesday night, we normally get a fair number of out-of-town people in to take part, but we also have a large number of regulars who come every week.
"We want to keep that sense of community alive, keep our name in the forefront of people's minds. It took a while to build this all up and it'd be sad to let it all of a sudden come to halt. So we're going to keep going, hopefully spark interest in even more people and when all this is done we'll all get back on the dancefloor together."