As a plane passed overhead, Wood River High School senior Neva Baer stood in a snow-packed driveway. Her voice carried over the sound:
"Chestnuts roasting on an open fire…Jack Frost nipping at your nose…"
Baer, joined by seven other members of Colla Voce—Wood River's elite, all-female vocal ensemble—rounded out a colorful rendition of Nat King Cole's "The Christmas Song." Two residents looked on from their garage, smiling, as their Labrador retriever tugged at the leash.
This was just one of many stops Colla Voce made last week as the group traveled home-to-home in festive pea coats and matching hats, gloves, boots and face masks. Their route—pre-planned by the Senior Connection's Meals on Wheels coordinator Katie Phillips—took them to multiple driveways throughout Hailey and Bellevue over the course of three days.
The students had a simple mission: to spread holiday cheer to the valley's more isolated seniors. The carol project was initially suggested by WRHS social worker Laurie Strand, according to Teresa Lipman, executive director of the Senior Connection.
"[Phillips] picked clients and center members who could use some special cheer this year," Lipman said on Wednesday. "We met at the center and drove in a caravan of cars, to be COVID-safe, and Colla Voce sang their beautiful hearts out."
While Colla Voce members shared holiday arrangements in-person, another vocal ensemble from Wood River High School opted for a virtual concert project. The Enchantones—formed earlier this year in light of the pandemic—consists of 14 members from the school's B-Tones and Enchanté choirs, and, like Colla Voce, is led by choral director Max Stimac.
"Because of COVID-19, we knew we couldn't do a whole bunch of singing this year and learn new songs for our fall and Christmas concerts," vocal coach R.L. Rowsey said. "So, we put the word out to everybody that they could gather in a smaller group, with masks and massively socially distanced, twice a week."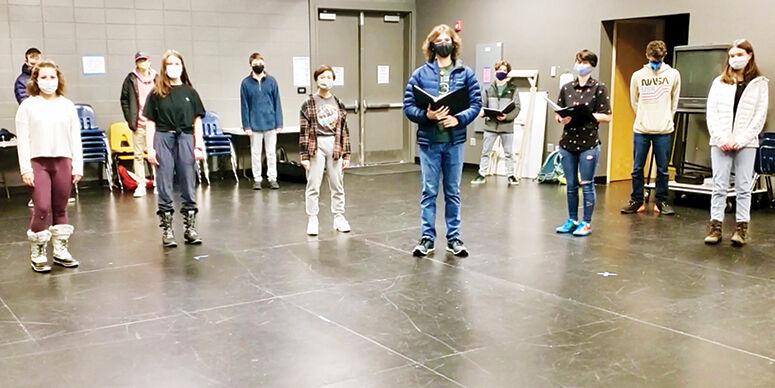 Rowsey—also the conductor of the Caritas Chorale, education programs artistic director for the Sun Valley Music Festival and director of several other groups—said it didn't take long for the Enchantones to figure out how to give back to the community.
"One student said, 'I'm worried about some of our seniors who will be isolated during the holidays. It will be really hard for them,'" he recalled.
The Enchantones' video project came to fruition last Friday when they recorded "Silver Bells," the Jonas Brothers' "Like It's Christmas" and a mix of other traditional and contemporary favorites. Wood River High School violists Landon Verst and Finn Wolfram even pitched in two of their own Yuletide duets.
"We discovered it's a little hard to not look zombie-ish with masks on, because we count on our mouths to smile, but nonetheless were able to send out some happy holiday tunes," Rowsey said with a laugh.
The link was distributed to hundreds of seniors by email over the weekend. For anyone needing a boost, the Enchantones also published a playlist, "Brightone Your Day," on Spotify, which can be found by following this link.
Rowsey said he was "continually in awe" of the students' mindfulness.
"Even in the hardest of times, these kids seem to be the ones that are looking past the noise," he said. "They're dealing with a lot, yet they consistently show up to do things like this."