For the past seven years, local artists in the Wood River Valley have come together to take part in an annual studio tour. During the two-day event, artists from Bellevue, Hailey, Ketchum and Sun Valley open their doors, allowing art enthusiasts to peek into their creative processes, chat about art and check out what the artists have in progress.
"Each year, visitors are delighted to find an ever-changing collective of artists who participate in the annual Wood River Valley Studio Tour," said Suzanne Hazlett, tour president and co-founder. "This year will not disappoint. A mix of returning, accomplished artists, some with new studio locations, artists participating for the first time and established favorites of local and out-of-town collectors will open the doors of their studios Aug. 17 and 18."
Forty Wood River artists will participate in this year's two-day studio tour. From watercolor portraits and plein air landscapes to experimental surrealist multimedia projects and abstract sculptures to artisan hand-stitched bags and unique silver jewelry, these local artists represent a wide range of modes and styles.
"It has been a really wonderful and humbling experience to be among the artists working in this valley, from photographers to metal workers to disciplined Impressionist plein air painters," said abstract artist Sarah Davies, who has participated in the studio tour every year since the beginning.
Her studio is on Canyon Road just off East Fork. Here, she explores the innate beauty of the natural world, but instead of attempting to capture literal, realistic representations of the landscape, she evokes the human, emotional responses inspired by those natural wonders. Her abstract landscapes incorporate colorful palettes and dynamic shapes to elicit that sense of awe and wonder as nature does.
Nature—and especially the stunning Wood River landscape—seems to figure into the work of many of the participating artists, but no two are alike. Each places his or her personal stamp on the environment, artistically speaking. Together, they form a mosaic, a comprehensive collective capturing the natural beauty of the area.
To these artists, the inspirational quality of this pocket of Idaho is inherent. As such, it stands out as an obvious place to cultivate a haven for art and artists.
That's one of the core purposes of the studio tour.
"[Hazlett's] vision was to bring more art lovers into this area where there are so many artists, so many galleries, but people aren't aware of it as an arts destination, per se," explained artist Judith Kindler, whose boldly singular body of work seamlessly draws upon photography, sculpture, painting and more to create unique pieces. "She wanted to support the artists, especially those who are not represented or who are underrepresented. She wanted to make this more of a national destination, and I really wanted to support that vision."
Kindler was among the first artists to sign on for the studio tour seven years ago, and has participated in every tour except last year's, and in that case only because she was in the process of finalizing a new studio, which is now finished and will be featured in its first tour this year. Her studio is at 823 Buttercup Rd. in Hailey, set back a little behind the bike path.
That aforementioned vision, as Kindler put it, is something the tour and artists have realized in full.
"The caliber of artists is increasing, as is the seriousness and professionalism in the way she approaches marketing," Kindler said of Hazlett.
Jill Lear, whose studio is several miles down Indian Creek at 113 Geronimo Drive, said, "I'm very excited about this tour. I've done it nearly every year, and I love it. I'm off the beaten track, but I still get a nice bunch of people making the effort to come all the way out Indian Creek."
Lear is producing a series of works depicting some of America's most impressive old oak trees, which have thrived in urban locations despite pollution and other hindrances.
Her unique approach uses pencil, acrylic, watercolor, washing tape and a wide variety of papers to create slightly abstract but still extremely recognizable renderings of her subjects. Papers of different patterns, textures and weights interweave with one another to create a sense of depth. Without shading or traditional color methods, she makes her two-dimensional images feel three-dimensional, and each captures a particular feeling of the grand trees' history.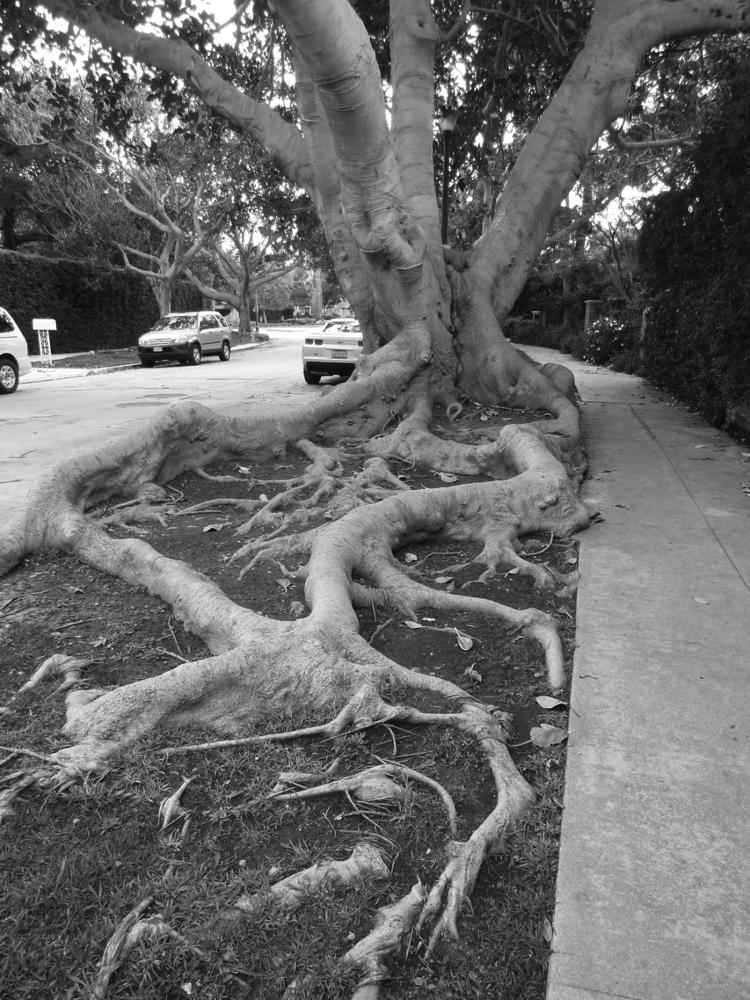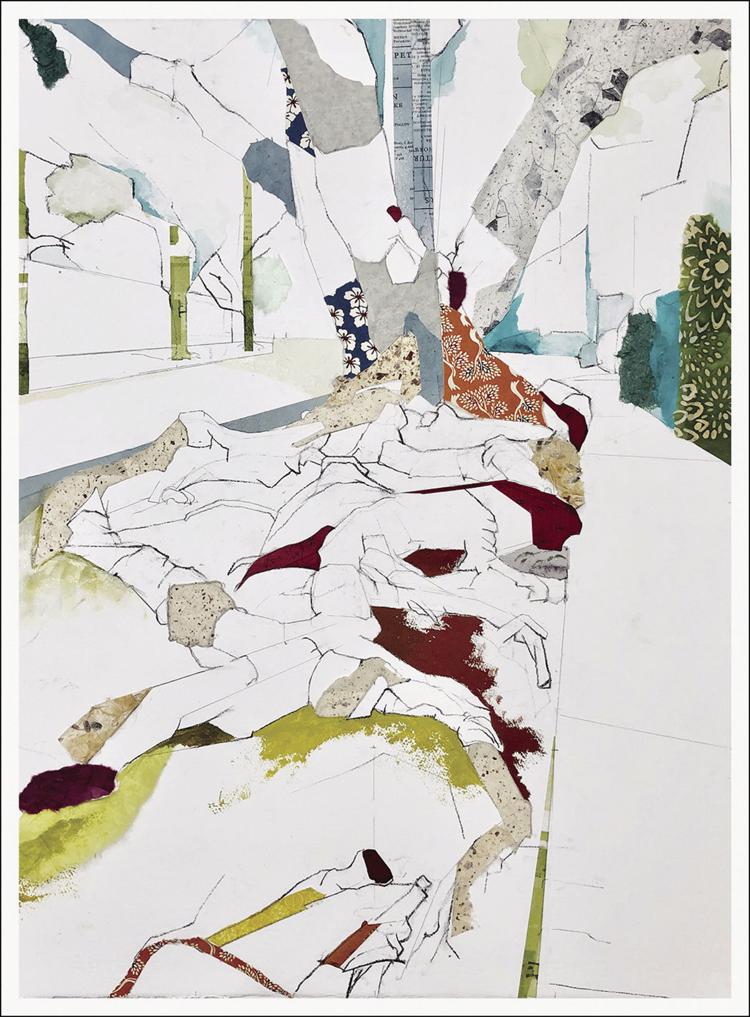 "I love these trees, and if anybody should happen to buy anything during the studio tour, I'm going to donate 10 percent to support urban tree-planting organizations," she said.
Each stop along the tour will provide attendees with a new, individual form of art to enjoy. In one case, art lovers can encounter two artists in one stop.
Mother-son duo Mary and David Roberson are sharing studio space for this year's tour, but their art could not be more different. Mary, a painter, uses oils and encaustic to produce mesmerizing Impressionistic images of wildlife and the landscape. Bears, horses, moose, wolves and other animals frequently make appearances in her work.
Her son, David, creates segmented turned wood vessels, adorned with hand-painted scenes and designs. He takes after his mother in terms of artistry, and the works of both are made even more impressive by the fact that their makers are self-taught.
The studio tour has provided each of them with a dynamic platform on which to build and develop, reaching new pairs of eyes that may never have seen their work before, and certainly never would have seen their studio and learned about the ways they create art.
That much is true for all the participating artists, and ties into what Kindler said about the initial objectives of the tour. Its impact does not go unappreciated by the artists or the art-lovers.
"I'm just so fortunate to be able to make a living doing what I love," Mary Roberson said. "Sometimes I wonder how many artists throughout history were super talented, but didn't have the means to support their own creativity. I wonder how many great artists we'll never know existed, how many great paintings we'll never see. For everything we see, what are we not seeing?"
Without galleries, without an obligation for the attendees to buy or the artists to sell, without any undue pressure, the Wood River Valley Studio Tour gets local artists seen, by both local residents and visitors from far and wide.
In addition to the tour itself, each participating artist has contributed a small work as a piece of an ensemble mosaic project to be displayed at the Ketchum Innovation Center for the duration of the weekend.
Each component of the mosaic will be up for auction. Proceeds from the auction will be channeled directly into the studio tour organization, ensuring the future of the event. Artworks can be viewed in person at the KIC, 160 Sixth St. W. in Ketchum.
The mosaic project online auction opens this Friday, Aug. 9. Potential bidders can find out more at wrvstudiotour.org. The auction will remain open until the end of the studio tour, at 5 p.m. on Sunday, Aug. 18, at which time the successful bidders will be contacted.
There will be a free reception with the artists at the KIC from 5-8 p.m. on Friday, Aug. 16.
The tour is self-guided and entirely free. Participants can find detailed maps and examples of artists' works online at wrvstudiotour.org or in print by picking up one of the official studio tour guide magazines.
"This year we are proud to have published our first WRV Studio Tour Guide magazine as a separate publication," Hazlett said. "Visitors will find the tour guides online, on newsstands, at visitor centers and other locations throughout the valley, including the Ketchum Innovation Center. Within our tour guide, visitors will find everything they need to embark on their self-directed artistic adventures."