Since the first stages of reopening in late spring and early summer 2020, the Wood River Valley's artistic community—normally overbooked with all kinds of programs and events—has done its best to entertain and enlighten under innumerable restrictions. Local- and state-imposed limits on gatherings, financial constraints, endless guidelines from Actors' Equity: the list of obstacles stretched far and wide. Still, community members did what they could. They held virtual concerts and book talks and took to outdoor venues when the weather permitted for smaller, cabaret-style performances.
Through all the ups and downs of the past 15 months, one normally common artistic offering has been conspicuously absent in the Wood River Valley—until now.
On June 30, live, professional, in-person theater is making a comeback with a full-scale production of Samuel D. Hunter's "A Case for the Existence of God."
A joint project of Sawtooth Productions, Laughing Stock Theater, Field Daze and the Argyros Performing Arts Center, "A Case for the Existence of God" will open at Reinheimer Ranch as the premiere show of the 2021 Field Daze outdoor summer season. Performances will run nightly June 30 to July 2 and July 6-10, plus a matinee on July 10.
Though certainly a scaled back, almost minimalistic play, the production is anything but minimal.
Once again working the theatrical magic for which he was known pre-pandemic, Sawtooth Productions Artistic Director Jon Kane has pulled together a world class cast and crew. MacArthur Genius Grant-winning playwright Hunter is closely involved with the production of his play, director Paul Lazar has signed on, and the two characters will be brought to life by actors Stevie Johnson and Pete Simpson, the latter of whom won the prestigious Obie Award for Sustained Excellence.
"It's indescribable," Kane said. "For all of us—Sam, Paul, the actors, me—it's a dream come true that we're getting back. I am so lucky to have Paul and Pete and Stevie, and for Sam be involved is a real treat. I feel incredibly blessed that we get to work on this play."
"A Case for the Existence of God" was commissioned by the Signature Theatre in New York, where it will have its official world premiere in 2022. The presentation at Reinheimer Ranch, a workshop production, effectively offers local audiences a rare sneak peek as Hunter views a professional trial run of the script. But for a number of reasons, it's the perfect play to mark the return of live theater in the valley, and the valley is the perfect place for this play to make its debut.
Born in Idaho, Hunter sets all of his plays in his home state, and "A Case for the Existence of God" is no exception. Though prolific and much-lauded in New York, Hunter has never fully left Idaho behind him, and frequently returns in both personal and professional capacities. One such visit came on Sunday, March 1, 2020. Kane had booked local actors Chris Carwithen and David Janeski to perform a reading of a work-in-progress play by Hunter. A couple dozen theater enthusiasts attended the reading at The Argyros. That was the last live theatrical performance Wood River Valley residents could enjoy in-person before heading into lockdown less than two weeks later.
The play was, of course, "A Case for the Existence of God." It marked and was marked by the beginning of the pandemic, and now—hopefully—it will help to signal the end.
"For me, personally, it's so meaningful," Hunter said. "Intellectually, we've known theater will come back, but it's been really hard to believe that sometimes."
Hunter described the play as "a tiny drama with the grandest possible title, a tiny moment in an impossibly grand world."
"A director I've worked with used to call [my plays] 'keyhole dramas,'" Hunter said. "You get a little view through a keyhole into a world, like a little diorama. This play feels different. I summitted something for myself emotionally in writing 'Case.'"
It's a simple story about two single fathers in Twin Falls forming an unlikely but no less believable and moving bond. Though certainly grand, Hunter's title gets to the heart of the matter: It's the small, simple things that possess the greatest power to provide a true meaning to life, just as Hunter's attention to the minutia of life provides the greatest effect in his play.
After the past 15 months, it's natural that, for most people, the moments that bear the most weight will be the ones taken for granted pre-pandemic. With vaccine rates high and restrictions on gatherings and mask requirements lifted, the act of congregating in public for a live performance has a power that wasn't there before. What once was commonplace is now, for the first time, remarkable. What "A Case for the Existence of God" posits—from a certain point of view—is that all normal things can be special when beheld by the right pair of eyes.
That is one of many qualities the play possesses that makes it perfect post-pandemic theater, according to actor Pete Simpson.
"Sam couldn't have possibly intended it when he wrote it, but there are elements in that play that are so perfectly post-COVID era in its themes of recovery, healing, coming together," Simpson said. "Even the way it's staged. It's very still, reminiscent of what we've all had to endure. There's this feeling of being trapped in one place, trying to reach out to someone."
As much as the early stages of the pandemic were characterized by a sense of altruism and support—the community howl in support of health-care workers, the record donations to The Hunger Coalition—overall the physical separations necessitated by lockdown seemed to intensify ideological divides as opposing groups held vitriolic debates over mask-wearing, social distancing, group size limits and other mitigation measures. A contentious election season didn't help. If these rifts are to be mended, the process will be long and slow and will consist of myriad acts of goodwill. The actors who have signed on for "A Case for the Existence of God" believe Hunter's new drama is one such act.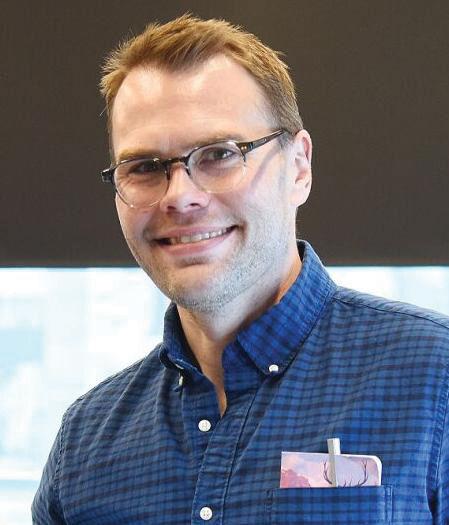 "This play is packed with empathy," Simpson said. "It's a meditation on two races, two cultures, two economic classes trying to figure out what it means to feel OK with themselves and each other.
"It speaks to this moment better than maybe Sam imagined it would have a year ago."
Actor Aaron Shipp, who was initially cast in the role now being played by Johnson, but who has since left the project, echoed Simpson's sentiments.
"It's a perfect piece for a post-pandemic American performance," Shipp said. "When I think about ways we as Americans struggle, we've so imbedded tribalism and individualism together, we've charged these labels we give each other as these camps we can't cross into—black, gay, white, straight, trans, abled, disabled, Republican red, Democrat blue—we're trapped by them.
"When a genuine connection happens, as it does between these two characters, that overrides all of it."
Nothing's ever a guarantee in the theater world—hence the necessity for clichés like "the show must go on"—and emerging out of a pandemic, the production is taking nothing for granted. "A Case for the Existence of God" is all about recovery and connection, both in its narrative content and the context of its production. So, when Shipp had to unexpectedly depart the project on short notice, Kane and his crew were determined to carry on no matter what.
Enter Stevie Johnson with a gargantuan task: "It's a tall order. I'm doing 5-6 weeks of work in a week and a half, but I'm working with some of the most skilled people in the business," he said. "For me, to be able to breathe life into this character, these words—to illuminate where [Hunter] comes from—I consider that an honor."
Like most actors around the country, it's been a little while since Johnson has acted in front of a live, in-person audience. He's kept busy during the pandemic, recently performing in a Zoom drama, but there's no substitute for live action. He said returning to the stage will be like "riding a bike."
"The emotion is right there. As actors, we work off that. To have a live audience, you feel the energy, feel the effect you're having on people. That's what makes live performance amazing. I'm excited to get back out there and really feel the interplay between the performer and the audience."
Simpson and Lazar agreed.
"I can't imagine there will be an unemotional moment for any actor returning to the stage," Simpson said. "There's not an actor I know of who won't have a powerful experience."
To Lazar, whose New York-based performance company Big Dance Theater has been closed to audiences like the rest of the city's venues, "It's a great way to reenter public performance."
Lazar has worked with Kane in the past, most recently directing "Outside Mullingar" at The Argyros in April 2019, and said he's excited to return to the area.
"Jon creates an ensemble situation where people get more familiar with Sun Valley and more familiar with one another," Lazar said. "Every time out you get more baked in, in a positive sense."
The decision to present the play outside—initially made in light of COVID-19 restrictions that are no longer in place—complements the text quite nicely, according to the director, especially as an alternative to performing remotely or virtually.
"The whole way this drama evolves and unfolds is with two people in proximity to each other," he said. "This kind of connection just couldn't occur if you were mediated by technology. The choice to do it outdoors there actually relates very much to the content of the play. The play is about, in part, the landscape of rural Idaho, and that landscape is a significant part of the play."
As in all of Hunter's plays, the Idaho setting is a major component of "A Case for the Existence of God." The playwright creates a pervasive sense of place; even in indoor scenes or those set in the heart of the city, the omnipresent landscape of the Intermountain West looms large. The characters and their "tiny drama"—painted realistically with a deft, natural linguistic touch—inhabit an almost infinitely vast world.
"A lot of [plays] you could do outdoors wouldn't speak so directly to what's been denied to us over the past year," Lazar said. "And this does speak to that very directly."
The pandemic placed an indefinite hold on communal experiences, both for audiences and artists. For the local community, usually rich with culture and creativity, that absence—both of the art itself and of the experience of enjoying it as a group—has been palpable. But this play, with its simple and poignantly human message, is bringing that all back at the most appropriate time and in the most fitting location.
To put it simply and in Hunter's words, "There's something very right about doing this play in the Wood River Valley and doing it outdoors. It's a beautiful way to come back to theater. Everything about it feels so right."