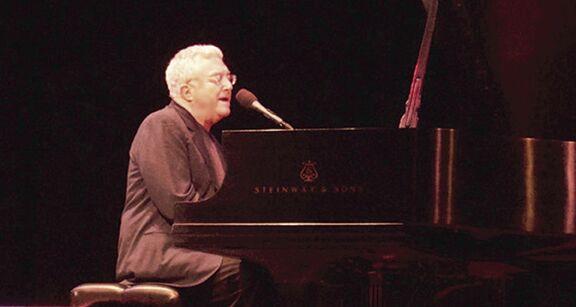 Much of the younger generation may only know Randy Newman's iconic work for the Pixar films. However, the singer-songwriter has had a vast career with many accolades. Coming to fame in the 1970s, his pop songs range from sarcastic to poignant. Since, he has become a celebrated composer for film scores like "The Natural" and, more recently, "Marriage Story." With all his success, he still continues to tour. Ahead of his performance this Saturday at The Argyros, Newman spoke to the Idaho Mountain Express about his style, his songs and, of course, Toy Story. Anyone interested in tickets should act quickly—as of press time, there are only a few select spots left.
IME: Do you have any connection to the Sun Valley area?
RN: My first wife has a house in Hailey. We're still friendly. Three of my kids spent time there growing up. It's a nice place. 
How do you feel about collaboration with others while performing?
It's alright, if it's musicians. There can be a certain thrill in it. But I perform by myself 95% of the time. It's more natural that way. It lets the lyrics shine through, which is paramount. There's little visual component of interest to me [of performing with a band]. I do like working with orchestras.
What about collaborating for film scores?
It took time for me to realize that film is a director's medium. I'm just there to help. I'm less important in that way. I don't complain anymore. Well, I guess I complain less. 
Can you talk about writing pop songs vs. working on a film score?
They're very different. The songs I write are character studies, that's what I do. I'm not sure. It's different parts of the brain, I guess. [With film scores] I react and do what I can to help the picture.
Would you say you're prouder of one or the other?
I'll probably be remembered for my solo work. It's more unique. But I wouldn't say I'm any more proud of it.
Do you have a favorite piece of music you've made?
Hmm. "The World Isn't Fair." I always thought that was a good one. And I like the music for "A Bug's Life." 
You came to be known for your dry, satirical lyrics. What was it like when Pixar reached out to you to write something so sincere for children?
It was a challenge. I had never done anything like that. But I had never seen a picture like that before. With [scores like] "Avalon," "Ragtime" and "Awakenings" there were a lot of quarter notes and half notes. But "Toy Story" keeps moving the entire time.  
How often do you turn down offers to do film scores, and why do you turn them down?
It depends. Sometimes I get five offers a year. There're various reasons why I turn them down. I could be doing something else. Sometimes I can't hear the music. Sometimes I just don't like the script.  
Are you someone from whom music pours out all the time?
No. I need a deadline. Then it comes regularly. I wouldn't write much without one. 
What are you currently working on?
I've started writing some songs. I had an idea. That's unusual for me. Most of the time I need to be sitting at the piano to do anything.
After all your accomplishments in your career, what keeps driving you?
That's a good question. I'm still getting better, I think. There's a lot of evidence that your best work comes before you're 30. But I think I'm getting better. My last album is my favorite I've done. I'm arranging better. I mean, I've been doing it for so long.