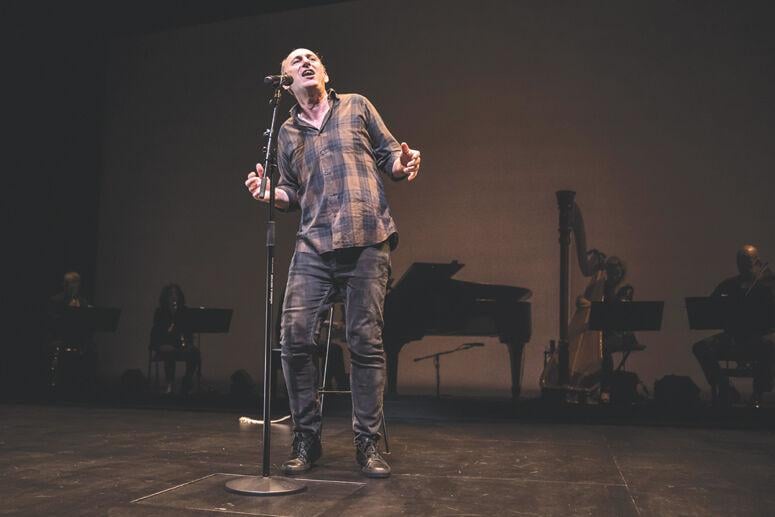 David Cale's new play-in-progress was originally supposed to be set in Montana. After accepting the inaugural Sun Valley Playwright's Residency, he changed it to Idaho. Cale said wherever it took place, it was essential that he be in that area for the writing process. 
"I write very intuitively," Cale said. "It's very instinctive. I don't exactly know where I'm going."
At 4:30 p.m. on Monday, Oct. 4, The Community Library will host a welcoming reception for Cale, including a Q&A discussing his work as a playwright, performer and photographer. His exhibit, "The Smiling Squirrels of Tompkins Square Park," will also open, running at the Library's Treehouse for the month of October. 
For the month of October, Cale will stay in town and develop his new play. Then, in a year, he will return for a live reading.
Community Library Jenny Emery Davidson helped develop the program. 
"The spectacular natural setting, the solitude that is possible here within a supportive environment, and the historic setting of Ernest Hemingway's final home all can contribute to a fertile writing environment," she said. "And we believe that having a playwright here will energize our community in ways that are unique to theater."
Cale will stay at the Hemingway House during his tenure. Although he said Hemingway has not been a direct influence on his writing so far, that might change living in his space. 
"Just being in his orbit in some fashion, I imagine it's going to be very stirring and very affecting," Cale said. "That may well creep into the script."
Cale sees a lot of his writing as short story writing, and Hemingway's "The Killers" is one of his favorite short stories of all time. 
"It's just brilliant," Cale said. "It's incredible how much he gets into a very short page count."
For his solo musical memoir "We're Only Alive for a Short Amount of Time," Cale received an Obie Award, a Joseph Jefferson Award for Best New Musical and an Outer Critics Circle Award for Outstanding Solo Performance. His play "Harry Clark," which won a Lucille Lortel Award for Outstanding Solo Show, starred Billy Crudup.   
John Baker, the initiatives artistic director, has long tracked Cale's career. He's excited for the Wood River Valley to the playwright.
"I'm so incredibly thrilled to welcome David Cale—an artist whose work is surreal, vivid, dark, and funny—as the inaugural resident," Baker said. "I've known and admired David and his work for years."
The play he will work on in Sun Valley tells the story of a woman who becomes fixated on an artist who was once prominent in the New York scene and then just walked away. She travels to Idaho to buy paintings from the recluse. They form a friendship. 
"What they do for one another, how they help one another alter each other's lives," Cale said. 
The artist encourages the woman to follow her passion of photography, which has been discouraged by her family. Cale's own photos, which he plans to take while in Idaho, will be projected on the stage. 
"The landscape here makes it so specifically beautiful," Cale said. 
Cale can relate to the character's artistic pursuits amidst doubtful loved ones. 
"I was very, very discouraged by my parents," Cale said. "I do know what it's like to not be supported in what you're trying to do."
Even now that he is now an established name, he still understands the struggle. 
"I know what it's like when people lose interest and you can't get anything produced," Cale said. "It comes in waves."
Even within his circle of theater friends, he experienced resistance when he showed interest in photography. They couldn't understand why, when he had so many writing gigs, he was getting up at four in the morning to catch the light over Coney Island. 
"I was only doing it because I like it," Cale said. "It's a little obsessive. I treat it very seriously."
"The Smiling Squirrels of Tompkins Square Park," started during the stay-at-home-order in New York. With all his performances canceled, he would spend all his time cooped up and writing. 
Just to get out of the apartment, he walked down a couple blocks to the park. He noticed how the squirrels were very comfortable with him, walking right up. Eventually, he started taking close-up photographs of the critters on his phone, two or three inches away from their face. 
This became a daily activity. He started posting the pictures on social media, giving the squirrels names and backstories. They gathered a following online. Cale even started a narrative where he was directing an all-squirrel "West Side Story," rivalling Steven Spielberg's forthcoming production. 
"There's a lightness and a silliness to it, but the photos came out pretty sharp," Cale said.   
The exhibition premiered at the Wild Project Gallery in New York City. 
At the end of this month, on Oct. 29, Cale will perform a reading of his one-woman show "Sandra" at The Argyros, which is set to open off Broadway at the Vineyard Theatre in spring 2022. 
"It won't be a sort of a mumbled reading," Cale said. "It will be more theatrical than that."
"Sanda" tells the story of a Brooklyn cafe owner who travels to Mexico to track down a missing friend. The thriller includes romance and danger. 
While in Idaho, Cale will also work on two television projects and a film project. He looks forward to being able to focus without the distractions of the city. 
"There's too much constantly going on or potentially going on," Cale said. "The phone is a big enemy, because I keep waiting for people to call me back. You can't do a deep dive in writing if the phone keeps ringing."