On the evening of Monday, Nov. 11, I received an email from Casey Mott, executive director of the Argyros. Given his position and mine, that was not unusual, but  the content of the message raised an eyebrow or two. In the brief note, he included just a time and a place, which he soon followed up with instructions for me to come alone.
Less than 24 hours later, I was standing in the basement of the Emmanuel Episcopal Church in Hailey, which had been transformed into a bustling film set.
Producers, camera operators, grips and technicians hurried around, and while I strove to lurk in the background unobtrusively, I felt perpetually in the way as all these professionals moved about, fulfilling their allotted roles in the clockwork mechanism of filmmaking.
The film in question is "Mass," an independent drama written and directed by Fran Kranz. "Mass" marks Kranz's first foray behind the camera. The debutant director has, up to now, known success as an actor in films, on television and on stage, perhaps most recognizable for his collaborations with Joss Whedon, namely "Dollhouse," "The Cabin in the Woods" and "Much Ado About Nothing."
For his first film as director, he has lined up an extremely challenging subject matter and a tremendously talented cast. The principal players include Jason Isaacs ("The Death of Stalin," "Harry Potter," "The Patriot"), Martha Plimpton ("Raising Hope," "The Goonies," the upcoming "Frozen II"), Reed Birney ("House of Cards," "The Blacklist," the stage play "The Humans," for which he won a Tony) and Ann Dowd ("The Handmaid's Tale," "Compliance," "Hereditary").
For my set visit last Tuesday, I was treated to a deceptively innocuous scene. An awkward conversation unfolds and quickly wraps up as Isaacs and Plimpton arrive at the church. The scene lasts only a few seconds, though shooting it took a good deal longer.
This early scene betrays little of the harrowing drama about to unfold behind closed doors in Kranz's first outing as screenwriter, but his succinct dialogue and the body language of the actors convey a subtle discomfort that speaks volumes.
"Mass" focuses on two sets of parents, Jay and Gail (Isaacs and Plimpton) and Richard and Linda (Birney and Dowd), who are reconnecting several years after the latter couple's son killed the former's in a school shooting.
In what Kranz described as "essentially a 70-page conversation" in the vein of "12 Angry Men" or "My Dinner With Andre," the couples revisit their wounds, debate what could have been and what never will be, and attempt to reach some remote semblance of resolution.
Kranz developed the script for quite some time, originally writing it as a stage play, but Mott—an old friend and now a producer on the project—helped convince him to rework it as a feature film, stressing that such an intimate and emotional script should be produced in a way that allows the audience to fully encounter the actors' performances.
With the screenplay done, Kranz came to the Wood River Valley over the summer to scout locations, visiting all the local churches, but not feeling any were quite right.
"I always knew I couldn't shoot this movie in LA or New York," Kranz said. "I wanted to achieve a real sense of America, especially in the landscape, even though most of the movie takes place in one room."
The valley had just about everything he needed, but his scouting didn't yield exactly the desired results.
"The churches in Ketchum are beautiful, grandiose, architecturally impressive, but I was looking for a certain modesty and authenticity that I think defines small-town USA."
Last on his list of churches to scout was Emmanuel Episcopal in Hailey. It was late in the afternoon, he was tired and had an early flight the next morning, but the Rev. Lea Colvill espied him and invited him in.
"I did not want to have a conversation," he told me. "I wanted to have a beer and go to bed early, but Lea and I got talking and I explained to her the plot of the movie and my inspiration. Before I knew it, it had turned into a therapy session with a pastor. I told her all about this anxiety I had about being a father, the fear of losing my child in this way. I just opened up completely. Something about this church inspired this fully emotional response in me and I knew I couldn't film it anywhere else."
Finalizing the location really got the ball rolling and Kranz, having found some comfort regarding one problem, had to confront a slew of new anxieties.
"I was feeling a lot of insecurities and fears about being a first-time director," he said. "Finding the church said, 'The road is open, now you need the courage to go down it.'"
Of filming in the valley, actor Reed Birney said, "It's beautiful here. Everyone has been very welcoming and so nice, and the valley itself is just lovely. The scenery has a very calming effect, which is great for heavy material like this."
Even with a host of recognizable names backing him, Kranz worked with Mott to engage a great deal of local talent with the help of Marshall Rawlings of Ketchum-based production company Alturas Films. Twenty Wood River locals are assisting the production in significant roles, both in front of the camera and behind it.
"We want to start to build a strong film community here in the Wood River Valley and this is an amazing opportunity to show that we have lots of local talent, both in tradesmen and creatives," Rawlings said. "The locals aren't just driving vans, either. They have key positions that require skill and training."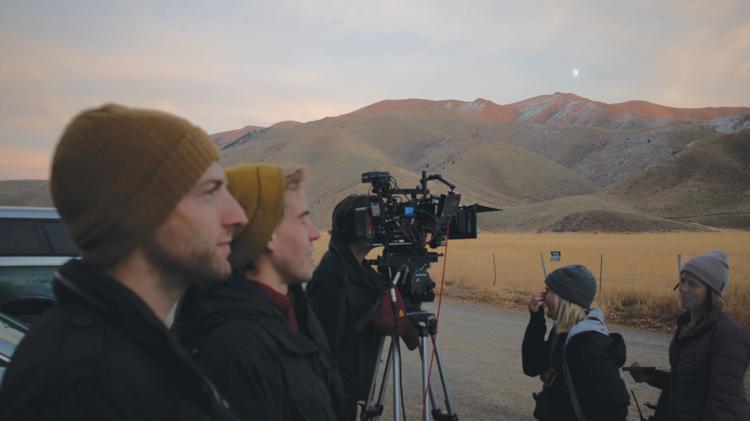 Local actor Kagen Albright landed a part in "Mass" and was performing opposite Isaacs and Plimpton when I arrived on set.
"Never in my life did I think I'd shoot a scene with them," he said, "They were both so amazing. I feel like I learned so much watching them not only on camera but off as well."
"It was great being involved and now it's tough to go back to my regular job," Albright remarked with a wistful chuckle. "It was a fantastic opportunity to be on a real, professional movie set in this way. Everyone on it knew their job and knew what to do. Fran's a joy to work with, too. He puts everyone before himself and it really shows. He's a very selfless man, and I think that's an important trait for a director to have."
Even in the hour or so I spent on set last Tuesday, I could tell that Kranz hadn't let his trepidation get the better of him. He directed his cast and crew with confidence and aplomb, listening to feedback from the actors, conferring with his director of photography and even taking the time to check on me on more than one occasion.
Considering some of the talented directors he's worked with in the past—including Ridley Scott, Joss Whedon, Drew Goddard, M. Night Shyamalan, Antoine Fuqua and, actually, Casey Mott as well—Kranz is no stranger to the cinematic process on either side of the monitor.
Isaacs, who had just arrived from Australia the night before and was working on his first day on set, praised Kranz for his boldness and professionalism.
"For Fran to take this on as his first film is just the right kind of crazy," Isaacs said. "When I read the script, I was immediately intrigued. Fran had a vision. Once I met him, I realized that he wanted to tell this story for all the right reasons and had all the smarts to do it."
Though Kranz is primarily known for his comedic work, his dramatic screenplay captures the subtleties of genuine human tragedy and the realities of pain and reconciliation. In short, "Mass" is an actor's smorgasbord.
"Acting is about empathy, and this film is about the nature of hate, resentment and redemption. Those are feelings everyone's familiar with," Isaacs said. "It's a great script, and whatever praise I get as an actor is credit due to the writer. It's a sculpture, and we're just chipping pieces off."
"Mass" is a grim tale, but all those involved feel it's an important story to tell. According to a recent article by The Washington Post, about 230,000 American students have experienced gun violence at school since the Columbine shooting of 1999.
Two days after my initial set visit, a student opened fire on his classmates at Saugus High School in Santa Clarita, Calif. He left two teenagers dead.
"It's a horrifying, awful thing every time it happens, but it's not surprising anymore," Birney said in response to the Saugus shooting. "Somehow it's become the new normal. I don't know how to fix it, but hopefully a story like this will at least help in some small way."
This is delicate material. It's risky and challenging for anyone in the entertainment industry to tackle.
Kranz's screenplay tastefully avoids depicting the act of violence itself, focusing on the aftermath, the wounds that never heal. He writes with a deft hand, without preaching and politicizing, delivering a definitively human story of profound emotional insight.
"It's always a horrendous tragedy, but this film is not really about a school shooting," Isaacs said. "It's about forgiveness and guilt, about blame and shame and love. Every perspective is represented. Really, Fran's written a treatise on humanity through the prism of a school shooting."
On set this week, I frequently thought back on one of Isaacs' most recent feature films, "Hotel Mumbai," which dramatizes the horrific 2008 terror attack on numerous locations in the Indian financial capital. It's a difficult film to watch, essentially an unflinching, realistic portrayal of sustained violence against innocent people for two hours. Some critics felt the material was too sensitive to put on screen, worried a viewer might find it entertaining and that it might trivialize the events it depicts.
I did not find that to be the case. It is a harrowing film and deeply reverent. Having read Kranz's screenplay, witnessed his directorial process and spoken at length with the cast and crew, I believe "Mass" will handle its subject matter with the appropriate care.
For Isaacs to say that Kranz was making the movie "for all the right reasons and had all the smarts to do it" is telling. The actor is a Red Cross ambassador and has done a great deal of charity work throughout his career, though he humbly downplayed that in conversation.
With a shrug, he said, "I'm not doing anything or saying anything special, but—hey, if people are more willing to hear the message from a guy they know from 'Harry Potter' or 'Star Trek,' then I'll deliver it. If there's value in being well known at all, it's in helping out. I'll exploit whatever amount of celebrity I have for that."
The filming process is underway and right on schedule. Then come the arduous steps of postproduction, marketing and distribution. It is impossible to predict exactly when the final version of "Mass" will be released, but it will doubtlessly show in the Wood River Valley before too long (Candice Pate, director of the Sun Valley Film Festival, also visited the set).
The valley hosts its fair share of movie stars and celebrities, both for events and just as a vacation spot. One can even run into Golden Globe winners in the post office.
Despite that, it is unusual for a full film production to set up in downtown Hailey. For Kranz to hire so many locals—and to welcome a small-town reporter to his set with open arms—speaks volumes to the care, empathy and courtesy this first-time filmmaker possesses.
I shall await the final release of "Mass" with bated breath and hope Kranz will put pen to paper and eye to lens again soon.