The strength of the Wood River Valley arts community—be it functioning healthily or stalled under quarantine—has been made possible by the hard work, creativity and inspiration of women.
That fact holds true through all areas of the arts—theater, literature, music, painting, sculpting, photography, dance, film, everything—and is finely evidenced by the demographics of sources quoted in an average Idaho Mountain Express arts section.
Perhaps most notable of all these esteemed and innovative women are those who blazed trails in the theatrical sphere. Of the theater companies in the valley, Laughing Stock, Company of Fools and The Spot were founded largely by exceptional women (and one feels a shout-out is necessary to theatrical stalwart Sara Gorby, who runs the show at St. Thomas).
Laughing Stock was the first of those to emerge in the late '70s, founded in part and still operated by Kathy and Patsy Wygle. Then, in the '90s, came Company of Fools, co-founded by Denise Simone. Most recently—just five years ago, in fact—Natalie Battistone and Yanna Lantz were part of the team that founded The Spot.
Before Laughing Stock got off the ground, Kathy Wygle owned a tropical fish and plant shop in the basement of Giacobbi Square. The colorful flora and fauna were perhaps indicative of the colorful life the Kathy and her sister Patsy were destined to lead in the blooming Wood River arts scene.
Both sisters had "caught the acting bug" many years before coming to Sun Valley, acting in plays throughout school. Patsy attended university for theater management with the intent to join Kathy in Sun Valley upon graduation and officially found Laughing Stock Theater.
"Well, then a friend convinced me to audition for a play in college and I caught the bug all over again," Patsy said. "By the end of it, I had to call Kathy and say, 'Actually, I think I might be heading to New York instead of Sun Valley.'"
"Yeah!" Kathy interjected. "And she left me holding the bag wondering when the hell we were going to do our theater."
So, it was off to New York for Patsy and back to the basement of Giacobbi Square for Kathy. During this time, Kathy and a group of local thespians frequented acting workshops hosted by the Sun Valley Center for the Arts.
"I'm running my little tropical fish and plant store downstairs in Giacobbi Square, and some friends and I had been getting together and talking about theater," Kathy explained. "The Sun Valley Center for the Arts—the one that's now 'the museum'—back then, they did a lot of stuff with theater. Now they are again with Company of Fools, but they didn't for all these years in between. Anyway, way back in '75/'76, they were bringing in teachers for summer sessions. We went to these classes and that bonded a bunch of us. Sun Valley Center was actually the seed."
Eventually, that seed—as seeds are wont to do—sprouted, took root and began to grow into Laughing Stock.
"We started doing big musicals at the Opera House in Sun Valley," Kathy said. "We usually did about four plays a year, usually one musical, sometimes two. Patsy's still in New York, but she's starting to come out to help here and there."
"I did vocal coaching and acting coaching in the beginning," Patsy said.
An almost unbelievable series of events started to unravel, leading to Patsy joining Laughing Stock fulltime. It is truly impossible to overstate how delightful and enthralling a narrative it is, though it rather exceeds the space available in this article.
It has all the elements anyone could want: music, comedy, betrayal, a romantic tryst with a future Oscar-winning actor and a vicious dog attack. One should ask her about it should one happen to cross her path.
Suffice it to say that Patsy came and joined her sister, and Laughing Stock really took off. In the intervening decades much has changed: Other theater companies have come and gone, countless productions delighted audiences, the aforementioned attack dog is long dead and the aforementioned actor won his aforementioned Oscar. Eventually, the Wygles took over operation of their own theater, the nexStage, but that building is gone, too, and has been replaced by The Argyros.
While much has changed since Kathy begat her theater company from out of her pet and plant shop, one thing has remained a dependable constant: Laughing Stock. The theater company is still going strong, mounting a handful of beloved stage productions each year and remaining one of the artistic cornerstones of the Wood River Valley.
As far as the local theater world is concerned, probably the biggest change to come during Laughing Stock's reign was the advent of Company of Fools.
In 1996, Denise Simone moved across the country to Hailey with her then husband Rusty Wilson and their 5-year-old.
"We had been here maybe four days before we really got going," she said. "We truly didn't know anything about the area—we were brand new."
They may not have known much about the area at that point, but some chance encounters had led them to know Bruce Willis, who owned the Liberty Theatre at the time, and he was looking for some hearty theater folk to breathe new life into the place. Thus, about 20 years after Laughing Stock, Company of Fools began.
Leaning into the "fool" part of their identity, the company kicked things off with Sam Shepard's "Fool for Love." Simone and Wilson starred alongside Willis. Simone recalled that despite the big-name ownership, Company of Fools was far from bankrolled at the time.
"We got our costumes at Barkin' Basement," she said. "At $18 a ticket, we sold out 11 performances, probably because we had Bruce in it, but what was so lovely about those early shows is that people weren't coming from far and wide to see him. We had a very local audience.I remember there was this market across the street. People would go get a bag of groceries, come into the theater, have a snack during a show. One time I saw someone drive off after the show with a horse in the back of the truck. It's not that people had heard about us or head that Bruce was doing it, people just came from the surrounding area."
Despite Willis' initial involvement, much of the story of the early days of Company of Fools was defined by scrimping and saving, banding together, building a community and getting to know the one into which they had entered.
"How did we get through it? A little luck, a lot of learning, a lot of crashing and burning and wondering how we'd exist for another year," Simone said. "There was an assumption that because Bruce and Demi [Moore] owned the Liberty, we were financially stable, but that's not the case. They were not shoring us up.
"Rusty worked extra jobs here and there to see us through. Any theater company that starts out, their origin story is filled with luck, tenacity and ignorance. We had a desire to be a part of the community. We wanted to start classes and be involved, and that saw us through."
Simone retired from her position with Company of Fools three years ago, but still works closely with the group, now under the umbrella of the Sun Valley Museum of Art.
"I continue every single day to hold immense gratitude for the years I had working alongside some of the best people in the industry with a community that is like nowhere else," she said.
She is still involved with the company on a project-by-project basis, appearing on stage in "The Miraculous Journey of Edward Tulane" and returning as director for "Cry It Out."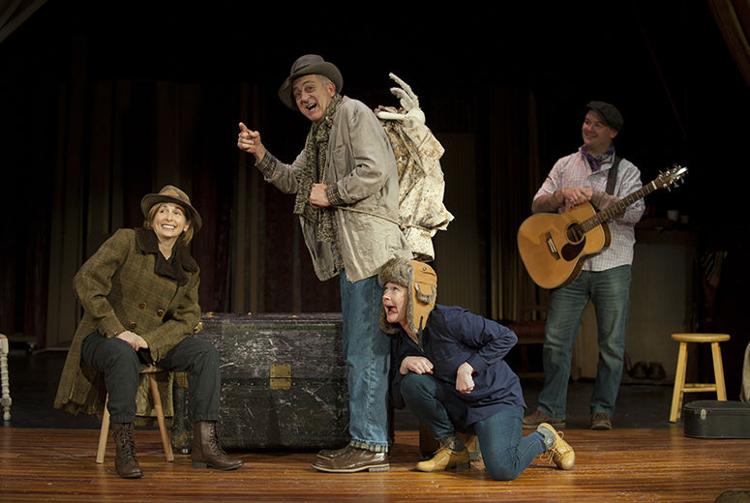 Like a parent raising a child and then watching him or her head out into the world ready to make mistakes and learn, Simone built Company of Fools from almost nothing and has now handed off the reins. The company is as strong now as it ever has been and is expected to announce its auspicious 25th theatrical season in early April.
Roughly two decades after the Wygles got going, Company of Fools emerged. Flash forward about another 20 years and a new artistic voice exploded onto the scene.
In the waning months of 2014, a small group of young thespians pooled their meager resources together, secured a vacant space—little more than a bare room—in Ketchum's light industrial area, set up some furniture and put on a play. Thus, The Spot was born.
"It's really incredible to even be here after five years," said co-founder Yanna Lantz. "We started The Spot on a hope and a prayer in September of 2014 with four of the founders pooling our collective money to make first month's rent and our deposit. At that point, our goal was to operate solely as an educational training institution for the performing arts."
That is a noble pursuit indeed, and many Spot members have been quoted in many different Express arts sections saying that education was always and will always be a core value of the company—but they soon realized that it could not be the only functionality.
"We quickly found that was not going to pay the bills, so we did our first show in January of 2015," Lantz said. "It's a really special memory to think back to—when we only had a couple chairs, a table and lamps the actors would turn on and off for lighting. To our surprise, the production sold out and we added shows, and those sold out too."
It is strange to think of the Wood River Valley in Piccadilly terms, but if Company of Fools can be counted the West End of Blaine County, then The Spot is surely the Fringe—the place to go for edgy, envelope-pushing, uncompromising and occasionally experimental theater. The Spot quickly found its niche and has continued to refine it and grow as the years go by—to great praise. (It is worth noting that in interviews for this article the Wygles and Simone enthusiastically commended The Spot's work.)
Much as with Company of Fools, the early days of The Spot required a great amount of clever spending, careful fundraising and diehard tenacity, but in just a few short years, the company has grown exponentially.
"There were many, many days we didn't think we would see the next show ever come to fruition because of funding," Lantz said. "As a new organization, it takes a while to gather the support to be sustainable, and none of us have business or development backgrounds—we're actors! But we've figured it out and have grown so much over the past years. Now, we have enough funding to support three spaces—our main theater, a lobby and a multipurpose wood shop/prop and costume storage/greenroom/rehearsal space. As our funding gets stronger, we're able to incorporate more details and 'spectacle' into our shows. Every single one gets better as we learn more, and we've even been able to start taking a modest, modest salary.
"It's a dream to be supported by the community, have an outlet to do what we were all trained at the highest levels to do and share the power theater."
Community and a strong sense thereof were recurring themes in conversation with all the actresses. That includes support from the general public, but also speaks to the cross-pollination of creativity, talent and ideas that makes the Wood River arts community so unique.
Simone maybe put it best when she said, "One of the things I love about this valley is that when we truly succeed, we do it because we're all doing our best. We're not competing, we lift each other up. We connect. When we silo ourselves, we make the whole organism a little weaker. When we share, it strengthens the whole."
The Spot hosted Laughing Stock's production of "A…My Name Will Always Be Alice" last year. Spot co-founder Natalie Battistone appeared onstage in Company of Fools' Christmas production and directed Simone in "Edward Tulane."
They all collaborate—with their own companies, with St. Thomas Playhouse, with Sawtooth Productions. It is a tightly knit but expansive network of very talented people, and it's because of this support that the community continues to grow. Who knows? In another 20 years there could be another new theater on the scene.