That time has rolled around once again. The paintings are hanging on the walls, the sculptures on their plinths, the doors open, the wine free and abundant and the sidewalks perilously icy—a wicked combination.
For one last time in 2019—but not last for good by a long shot—Gallery Walk is back.
From 5-8 p.m. on Friday, Dec. 27, various galleries around Ketchum will welcome visitors for this free offering. Art lovers can pop in and out at their leisure on a self-guided tour of the town's vibrant and varied arts offerings.
Though this is the final Gallery Walk of the year, the Sun Valley Gallery Association's primary contribution to the arts community will return on Valentine's Day 2020, after a short reprieve.
Well over a dozen galleries participate in the event. Most of those feature on the map printed above. Read on for a more in-depth look at some of the highlights on display this week.
Sun Valley Center for the Arts
On Friday, Nov. 15, the Sun Valley Center for the Arts launched its current visual arts exhibition, "Behind the Sagebrush Curtain: Women Modernists in Montana and Idaho."
As that title implies, the exhibition collects the works of several influential and innovative female modernist artists who worked primarily in Montana and Idaho in the previous century, namely Gennie DeWeese, Edith Freeman, Isabelle Johnson, Helen McAuslan, Frances Senska, Jessie Wilber and Sara Joyce.
Ranging from abstract to realistic, these collected works offer thought-provoking and transportive glimpses at the scenic wilderness of the intermountain West.
The Center is located at 191 Fifth St. E. in Ketchum. To learn more about this exhibition and future undertaking of the Sun Valley Center for the Arts, visit sunvalleycenter.org.
Three artists—Robert Moore, Lori McNee and Ovanes Bererian—will figure into the Kneeland Gallery's new exhibition, "Winter Reverie," which captures all the imagery and feeling of the frosty months.
Moore has become a renowned and well-known plein air painter. A native of Burley, Idaho, he has traveled the world, gallivanting across North America, Europe and East Asia. Everywhere he goes, he creates breathtaking, vividly realized impressionist images of nature.
The plein air style was popularized by 19th-century French impressionists and enjoyed a resurgence in the American West. The term refers to the act of painting entirely outdoors—on location, as it were.
Bolstering the artistic ensemble is local painter Lori McNee, whose eye-catching works meld together diverse colors and textures to suggest depth of field and realism in richly symbolic ways.
McNee's paintings are often reminiscent of the Dutch masters who reigned supreme after the 80 Years War. In this way, there is a calmingly reflective quality to her work that inspires the onlooker to consider the past as well as the present.
Finally, rounding out the exhibition is Ovanes Berberian. A native of Russian Armenia, Berberian studied the artistic craft under his father, a well-regarded artist and professor. In 1977, Berberian moved to the United States and won a scholarship to study with master painter Sergei Bongart.
Now a resident of Idaho, Berberian has gained quite the following for his adventurous landscapes and opulent still life images.
Kneeland Gallery is located at 271 First Ave. N. in Ketchum. Visit kneelandgallery.com to learn more.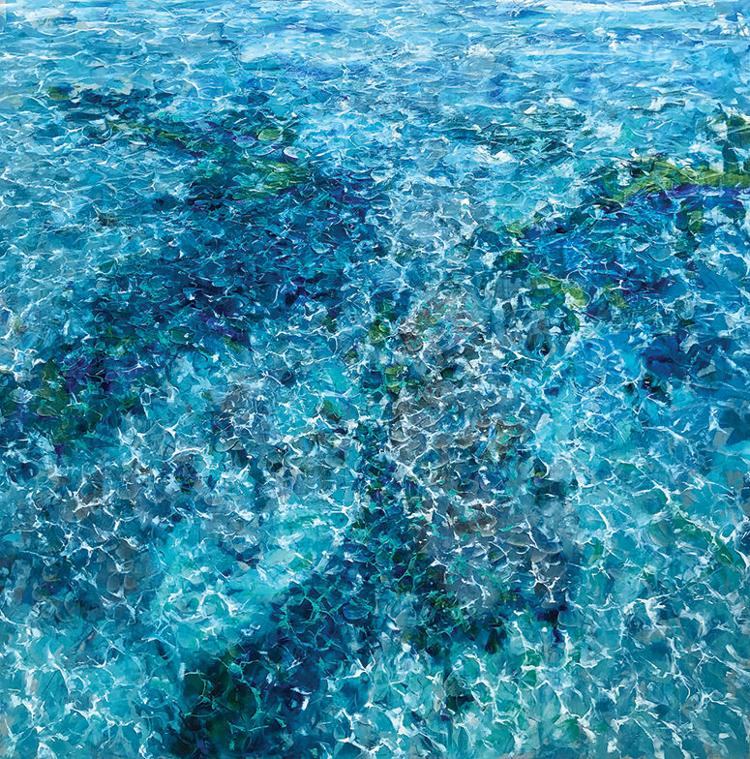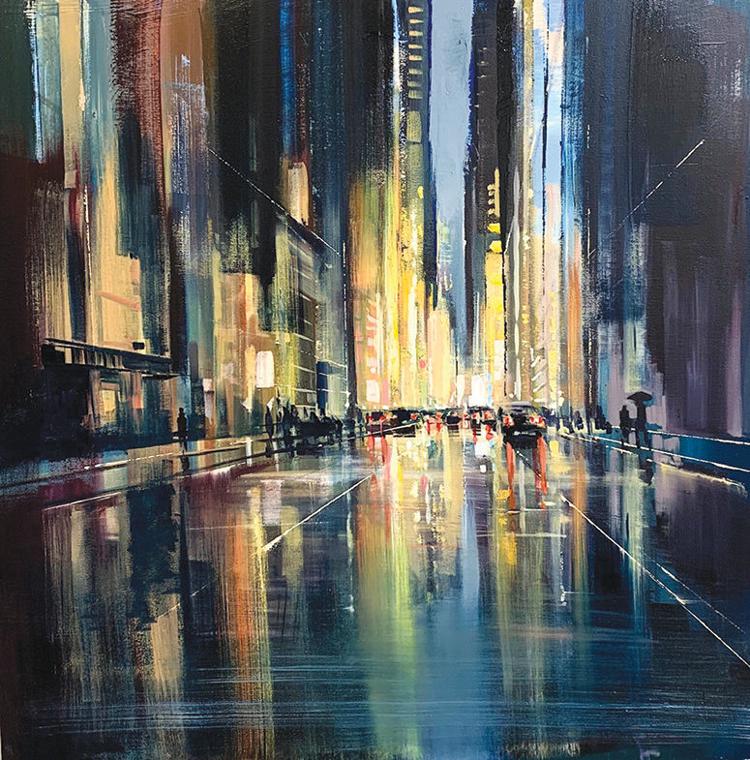 This holiday season, Gilman Contemporary is bringing a little perspective to Gallery Walk with its new exhibition, "Vantage Points."
Incorporating a wide array of artists, styles, techniques and media, "Vantage Points" offers art lovers a chance to look through different sets of eyes and experience new images.
Highlights include small-scale framed photographs by Jefferson Hayman, pleasantly juxtaposed to the larger photographs of Jeri Eisenberg, depicting abstracted lily pads and printed on panels of Kozo paper.
On the painting side of things, Gilman has the distinct geometric stylings of Kelly Ording, which strike stark contrast to the fluidity achieved by James Austin Murray in monochrome works of black oil.
By touching upon such a diverse selection, the curators at Gilman Contemporary hope to inspire a dialogue between each viewer and each "vantage point," inspiring the Gallery Walker to consider how the artworks go together or do not, and how they create both discourse and discord.
Among some of its more longstanding displays, Gail Severn Gallery will introduce a new exhibition ahead of Friday's Gallery Walk featuring works by Washington state artist Robert McCauley.
With paintings that often place realistically rendered wild animals against vague backdrops or among highly discordant objects, McCauley's body of work offers a unique flare to the beholder.
Visitors to the Gail Severn Gallery may observe and enjoy, for example, a perfectly ordinary—though masterfully done—image of a polar bear, just on its own. One may find the same polar bear holding a top hat, or wearing an octopus on its head. Another image depicts a raven riding a globe, sitting atop a black bear, which is standing on the shell of a sea turtle.
At turns abstract and realistic, McCauley's paintings are never dull and promise to enliven the ambiance at Gail Severn. Though fully unique from the other items on display in the gallery, McCauley's works also complement their neighbors. The curators select different, but not altogether disparate, artists, so the exhibition space itself boasts as much of a personality as the artworks it presents.
The Gail Severn Gallery is located at 400 First Ave. N. in Ketchum. Visit gailseverngallery.com to learn more.
The Stone Art Gallery is one of the newest and perhaps the most aptly named gallery in Ketchum. Having only opened its doors in 2017, it deals exclusively in, as the astute observer may infer from context, stone art.
Gallery owner Jeff Homchick has garnered worldwide attention as a stonemason, lapidarist and artist. He began studying the trade nearly four decades ago, honing his skills as an apprentice under renowned Italian stonemasons. Demonstrating a proclivity for it early on, Homchick soon became one of the youngest stonemasons in the world to achieve master craftsmanship status.
Today, alongside Homchick's own creations, the gallery also frequently exhibits work by other master stone artists, including Sabah Al-Dhaher, Robert Cruce, Salvador Duran, Zee Haag and Luigi Talara.
These artists employ an expansive range of materials and techniques to create eye-catching items of sculpture, each in his own unique and innovative style.
In addition to the common stone and marble used in sculptures, the artists also frequently employ rare materials like precious gemstones and fossils, including Moroccan trilobites, ammonites and septarian nodules.
The Stone Art Gallery is located at 631 E. Second St. in Ketchum. This is the last Gallery Walk at the current location. Stone will be moving in January. To learn more about the gallery, the art and the artists, visit stoneartgallerysunvalley.com.
Frederic Boloix Fine Arts
Owned and operated by multilingual Renaissance man Frederic Boloix, the namesake gallery has cemented its position in Ketchum as a premier spot for fine arts contemporary and from throughout the past.
Boloix himself has had a presence in Sun Valley for 25 years, following years as a gallery director in San Francisco and, before that, more than a decade as a professional classical musician in Vienna and Munich.
His artistically rich and varied background has a heavy influence on the kinds of art that go on display at the gallery. From still-working postmodern innovators to 20th-century masters like Picasso and Matisse, the Frederic Boloix Fine Arts gallery only works with the best.
For this Gallery Walk, Boloix will feature a group exhibition of works by artists who paint in unconventional formats, such as on mirrors or folded aluminum.
Among the highlights of this exhibition is a piece by Italian painter Antonio Sannino. Using oil and resin on aluminum, Sannino creates a striking representation of the desultory waters around Capri. His unorthodox techniques allow his waters to achieve a realistic translucence.
Lovers of fine art and rare pieces should make Boloix a priority stop along Friday's Gallery Walk. These eye-catching pieces are just a few from a vast collection of works on display.
Frederic Boloix Fine Arts is located at 351 Leadville Ave. N. in Ketchum. To learn more about the gallery, its art and artists, visit boloix.com.
The above listed galleries are but a mere smattering of all those opening their doors and taking part in Friday's Gallery Walk. People hoping to squeeze in a little arts appreciation between Christmas and New Year's Eve can drop in anytime between 5-8 p.m., enjoy a small glass of something and a polite nibble of something else, and bask in some of Ketchum's myriad visual artistic offerings.
See the map on page two of this section for locations of all the participating galleries around town.
Visit svgalleries.org for information on future Gallery Walks and to learn more about the Sun Valley Gallery Association and its nine members.