A new sign hangs on the walls of 191 Fifth St. E. in Ketchum—a new name adorning its tenant organization—but not much else has changed for the Sun Valley Museum of Arts (née the Sun Valley Center for the Arts).
Concerts, lectures, visual arts exhibitions, film screenings; if the average passerby can name it, odds are good the museum offers it in some form or another. While the word "museum" may not, at face value, imply all the above-listed events, the term does invoke a place of learning, a central hub of education.
In that respect, the new identity comes as a fitting change for the cornerstone arts nonprofit, which has long distinguished itself as an educational entity, engaging with students and schools through numerous outreach activities throughout the year, promoting the arts as a powerful tool in the pursuit of knowledge.
"If anything, the new name better showcases the work we were already doing," said Katelyn Foley, director of education and humanities. "The name change hasn't had an impact on what we offer. This educational programming was developed when we were The Center, but we were almost seeing ourselves as a museum already."
Indeed, the organization has boasted formal museum accreditation for many years now, and when SVMoA made the official announcement a few weeks ago, its representatives foregrounded the fact that many art museums around the world have been diversifying their offerings beyond permanent collections and expanding outreach.
While SVMoA may be aligning with certain trends, many of the museum's initiatives are unique, especially regarding its approach to educational outreach.
"A lot of museums are prioritizing education and in particular arts education, but not very many are integrating art with other subjects," Foley said. "We developed it at the middle school level because we realized that kids in this valley, once they hit middle school, aren't seeing arts as often. We wanted to get them more arts throughout the day, so we figured 'let's go to the classes they have to take.'"
SVMoA conducts programs with every middle and high school in the county. Outreach initiatives seek to integrate the arts into core curriculum courses—math, science, English and social studies—to both enrich students' appreciation of artistic modes of expression and engage them more actively in their learning.
This has been a primary part of the organization's identity for quite some time, but has experienced an exponential growth in the past few years. By Foley's estimate, when this education enrichment program launched about six years ago, it reached approximately 150 students. Last year, that number exceeded 700 students.
Jordyn Dooley, art therapist and enrichment educator for SVMoA and the one who spearheads much of the program, spoke to the widespread advantages of integrating arts with other subjects in this way, yielding valuable results for the students, the teachers, the museum and the community at large.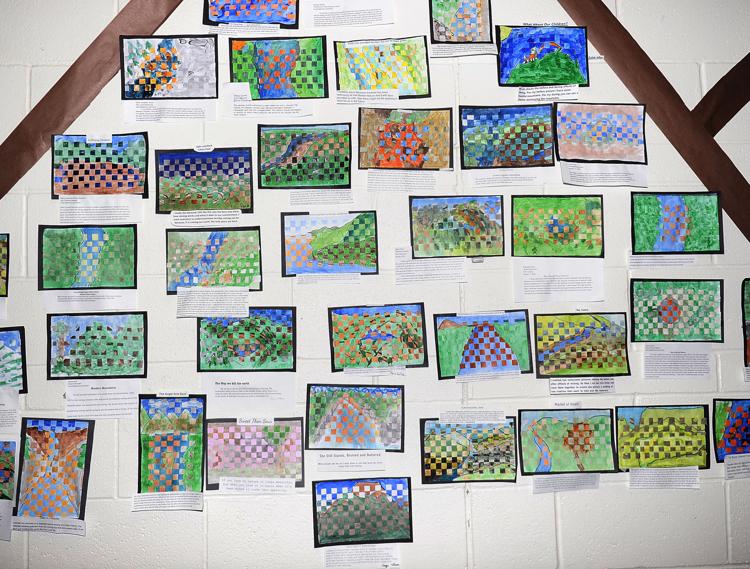 The museum just recently concluded an enrichment program with the Wood River Middle School's eighth grade science classes, developed in collaboration with teachers Keith Wohlwend and Stephen Poklemba.
The science class had been focusing on mining and its impact on the environment and the economy. That unit of study culminated in a structured debate of the benefits and costs of mining. Before reaching that boiling point, however, the students engaged with SVMoA to synthesize their ideas in a more hands-on manner.
"There's a broad spectrum of students. Some will enjoy just taking notes, but others are much more hands-on," Wohlwend said, referencing the 240 students he teaches on a daily basis. "If you add another creative component on top of that, you'll engage the students who want to be more artistic. They come up with some really unique work."
The teachers and their SVMoA counterparts developed an art project for students that would challenge their concepts of the topic ahead of the big debate.
Each student created two small paintings de-picting a mining site before and after the human exploitation of the land. The students then cut each painting into strips and wove them together.
"It gets them to think about the impact of human activity," Poklemba said. "They take something beautiful, rip it apart, put it back together, but find it's not quite the same anymore. That's what we do with the world all the time."
It also helped the students consider multiple points of view ahead of their debate, and really delve into the nuances of the topic.
"Human impact is a key part of curriculum and we've been very impressed by the balanced view the students are displaying, the idea that mining has its consequences but it isn't just bad. We need all the minerals and resources. We've been so impressed by their research and their truly critical thinking," Wohlwend said.
While the core activity and process was the same for each student, the pieces demonstrate the individuality of their creators. Every painting is different and each student has provided a title and short artist statement to accompany the exhibition.
"As far as the arts and science collaboration, I think the benefits can apply across the board," Dooley said. "Art provides a different way for kids to learn. It allows the opportunity for exploration, for them to draw their own conclusions and there's often more investment in the process when students have some ownership of their learning or over their project."
Poklemba echoed Dooley's words, saying, "Arts and sciences always go together. No matter where you go, what museum you visit or textbook you read, there are always diagrams, photos dioramas—there's always some art component to it.
"Even if it's just a PowerPoint or a movie on some science concept, it allows kids to spread their wings and say, 'I could do that.' Who creates those visual components? Artists. The kids don't have to like science, but they can see how science can play a role in creating art. Creating a product also has a huge part to play. Instead of just doing bookwork and doing work on paper, there's this component of creating."
Arts and sciences are often, unfortunately, depicted as mutually exclusive opposites on the educational spectrum, but what SVMoA posits—and has for some time now—is that all disciplines feed into each other, the appreciation of one can help develop an appreciation for another, and from a certain point of view, everything the world has to offer is art in at least some capacity.
As previously mentioned, SVMoA organizes these classroom visits for all the upper-level schools in the district. Jordyn Dooley will be off to the seventh grade soon enough for another project, keeping busy and spreading art through the core curriculum all year long.
The former Center does not draw the line there, though. Various musicians and performers that the organization brings in throughout the school year visit local classrooms and offer unique perspective on art, culture and often foreign countries, history and many other disciplines.
SVMoA's official manifesto clearly states that "we want you to learn no matter what your age," and the nonprofit certainly commits itself to that mission. In the last fiscal year, it reported 172 different K-12 arts education programs reaching more than 8,000 students. If museums are meant as repositories for knowledge, then this museum is certainly fulfilling its purpose.
For more information on SVMoA's educational initiatives for community members of all ages, visit svmoa.org/learn.