Sawtooth Productions, under the artistic direction of Jon Kane and in association with Laughing Stock, will continue its perennially ongoing series of live actor play-readings this week with "Ripcord" by Pulitzer Prize-winning playwright David Lindsay-Abaire.
"Ripcord" is an uproarious comedy that follows the antics of two 70-somethings battling each other for a desirable room in their assisted living facility. Pranks, misdemeanors, gags and more await around every corner.
The reading will be directed by Pamela Sue Martin and star Kathy Wygle and Danielle Kennedy. The supporting cast includes David Janeski, Aly Wepplo, Laird Erman and MacKenzie Harbaugh.
"We've done a lot of these readings, Jon and I. Comedy can be great for this. If you have a good stage-direction person, you can keep the energy high and really get a good rhythm going," Wygle said. "This play in particular is perfect for a reading. A lot of it is witty repartee, a back and forth comedy of language."
"Ripcord" came to Kane's attention as a potential play-reading through Danielle Kennedy, who performed it with a theater company in Bangor, Maine. Kennedy has long entertained connections in the Wood River Valley, though, maintaining a permanent residence in the area from 1995-2005 and returning frequently since then, most notably for a 2015 Company of Fools production of "August: Osage County."
Kennedy said she had such a delightful time performing "Ripcord" that she greatly looks forward to revisiting the text in this upcoming reading in Ketchum.
"I love doing it, and I'm sure looking forward to getting back up to Ketchum with all my thespian buddies," Kennedy said.
Speaking of the play, she stressed that its appeal is in no way restricted to the demographic represented by its main characters.
"This is not a 55-and-over kind of a play. It really isn't," she said. "When we did it in Maine, we had sold-out audiences every night, and out of everyone, I think the teenagers loved it the most. They laughed the loudest."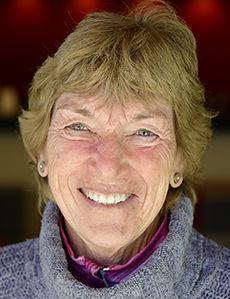 Kennedy cited the broad appeal of the comedy itself to explain this widespread glee.
"It's a couple of old ladies playing pranks on each other, but they're not defined by the fact that they're old ladies. They could just as easily be teenagers, or sisters, or frenemies. It's just plain hilarious. I definitely advise young people to come. They're going to laugh and they're going to have fun. When Jon said we could do it as a reading, with Pam Sue Martin—my dear friend—directing it, I was just thrilled we could bring it up to Ketchum in this capacity."
Martin is fully prepared to dive in when she gets to town.
"The play is very funny. It's always about timing, which is what I'll be on the lookout for," she said.
Timing must be difficult to get just right in a reading, but this production is prepared.
"I love working with Danielle Kennedy," Martin continued, "and the cast is terrific, so my job will be minimal compared to a full-scale production, which requires so much more with staging and planning. Mostly I'll probably just sit there and laugh."
Kane often uses these play readings as informal previews to test how audiences receive certain texts and how local actors perform with them. Down the road, some readings are eventually developed into full-scale theatrical productions, as was the case with "Outside Mullingar" earlier this year.
The reading of "Ripcord" will begin at 6:30 p.m. on Thursday, Nov. 14, at the Argyros Performing Arts Center in Ketchum. The reading is free, though Sawtooth Productions recommends a donation of $10 to help cover the costs of travel and the complimentary wine and cookies, which will be served.
Theater lovers looking for a preview of potential upcoming productions and insight into the actors' process can drop in and enjoy an evening that promises to burst with laughter.