The camera fades in from black, opening on an almost endless, untouched expanse of the American West. It's a marriage of contradictions: barren, desolate, daunting, but also beautiful, awe-inspiring and enticing. As the wilderness spreads out ahead of the viewer, a lone, rugged voice speaks out:
"Working here, my office is about the size of the state of Rhode Island. People don't understand this part of the world exists. They don't even know that cowboys exist."
The speaker is, of course, living proof that real cowboys do exist. Far from the romance and adventure of Hollywood, they carve out a rough, exhausting, demanding life on the still uninterrupted rolling wilds of the West, making priceless contributions to the world's beef supply, and they wouldn't have it any other way.
Following that stirring opening shot, "Cowboys—A Documentary Portrait" unfolds. The new film—produced by local filmmaker and author Feli Funke—chronicles the lives of real cowboys working on some of America's largest and most remote ranches. Directors Bud Force and John Langmore—both former professional cowboys—take the viewer on an intimate journey in the saddle, examining the cowboys, their families, their animals and their unique way of life, steeped in tradition and quiet determination.
The documentary premiered at the 2019 Austin Film Festival, where it won the audience award and received several other accolades. The filmmakers screened it again at the National Cowboy Poetry Gathering in Elko, Nev., where it received more praise from an even more discerning audience—cowboys themselves. After that, though, the release of the film turned into a saga worthy of its subjects as the COVID-19 pandemic set in and curtailed all plans.
Now, though, at long last and after more than a year since its premiere, "Cowboys" is finally getting a global release. As of Tuesday, Nov. 17, the film is available for streaming and digital purchase from Amazon, iTunes, Google Play and Vimeo on Demand.
"[Releasing the film] has been really overwhelming and gratifying and exciting and scary, because everything we know basically has been redefined," Funke said. "We have to make adjustments. We've never done things before this way. You just have to trust in the process."
A full-time Wood River Valley resident for 24 years, Funke has spent nearly four decades of her life documenting and exploring the American West, having first visited in her early 20s on a trip from her native Germany.
She had always been an avid and accomplished equestrian, riding and competing, but that trip in Nevada was "fundamentally life-changing," she said. "To disconnect and disappear for 12 days on horseback and vanishing into untouched wilderness, seeing wild horses—I did it for five consecutive summers. I was truly addicted."
From then on, Funke has been documenting the American West, featuring works in national and global publications and releasing her own book, "Gathering Remnants—A Tribute to the Working Cowboy."
With that background, she leapt at the opportunity to work on "Cowboys—A Documentary Portrait." In its honest, frank depiction of the life of a cowboy—narrated by the cowboys themselves, speaking candidly about their daily experiences—the documentary distills a code of conduct and an attitude that apply widely to all walks of life, especially during times of stress.
"That same culture is here in the valley. It might be very subtle, but it's here. It's very remarkable to see that resilience and those traditions," Funke said. "Right now is a particularly good time to talk about resilience. We need it and we will continue to need it because we're in such a difficult time. You never know what kind of curveball life will throw at you.
"You can take away from the film a certain sense of independence, self-reliance. It's a quiet way, a humble way. That way has not changed in over a hundred years. We don't think this way of life will disappear."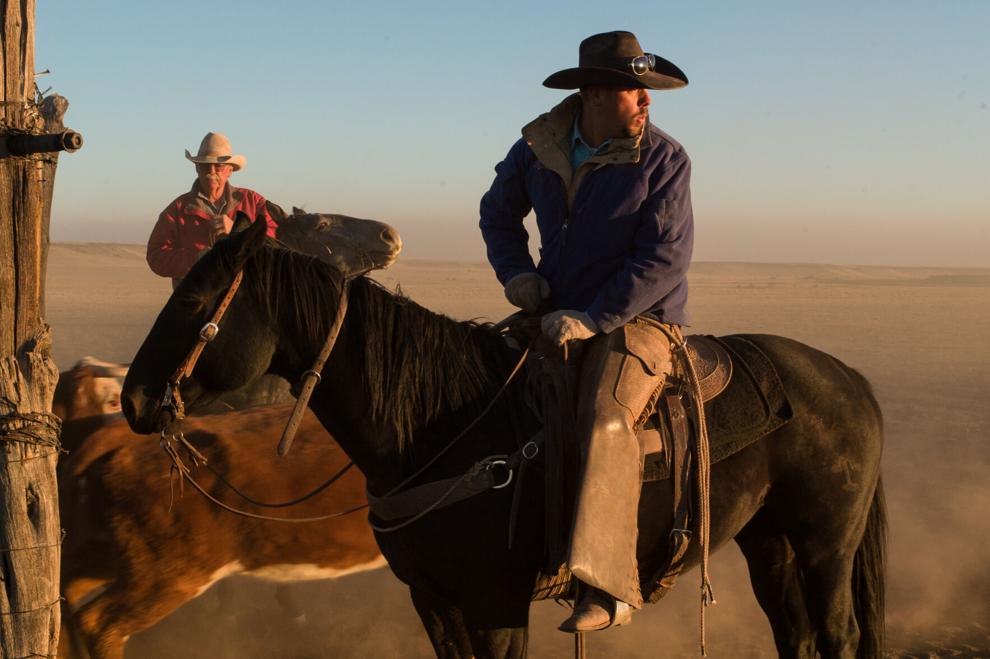 Each cowboy who appears in the film exhibits a fierce determination to get the job done and overcome whatever challenge emerges next, often alone and far from any kind of aid. As Funke said, though, each also harbors a gentleness and humility. She related how every cowboy in the film treated her with abundant courtesy and was always polite, thoughtful, patient and kind.
All those qualities shine through powerfully in a portrait of what is arguably the most quintessentially American profession, but as one cowboy puts it, "It's a life, it's a desire out here that not everybody has or understands or will ever understand."
Told through a series of soft-spoken, rugged anecdotes and observations and gorgeously brought to life through Force's inspired cinematography (worthy of a John Ford film), "Cowboys" offers a rare glimpse into the American West's proud past, committed present and, hopefully, enduring future.
To quote another cowboy featured in the film, "They've been talking about the cowboy dying for a hundred years. But that same old time spirit, back from the trail-driving days—it's still in them. And it always will be."
In an interview with the Mountain Express, Funke reiterated several times her desire and commitment to host a public screening in Blaine County once COVID-19 conditions allow.
Until then, "Cowboys—A Documentary Portrait" is now available to watch online from the above-mentioned sources. To learn more about the film, the filmmakers and the cowboys themselves—or to preorder a DVD or Blu-Ray copy—visit thecowboymovie.com.