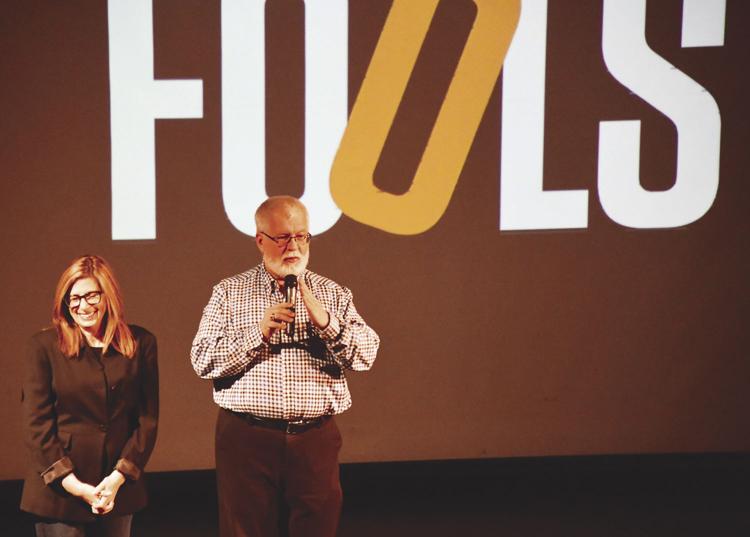 Last week, the Sun Valley Center for the Arts hosted its annual Fools Day event, a celebration of the work of The Center and Company of Fools. It was a show of appreciation for their loyal members and a sneak preview at what the coming year has in store.
Representatives of both organizations took to the stage at the Liberty Theatre in Hailey, announcing plays, concerts, artistic exhibitions, Big Idea projects and more to much excitement from the audience.
Among the many announcements—which included a special concert by iconic blues musician Keb' Mo' in October—Company of Fools confirmed its entire 2019-20 theatrical season.
Beginning June 26 and running until March 7, 2020, the 24th annual Company of Fools season centers on the theme "Welcome to the family." As the company's new artistic director Scott Palmer elaborated, each of the four plays considers the theme of family in a different light.
"In my first season here, it feels only right that together, hand in hand, we consider what family means," Palmer said. "In just a few short weeks, the residents of the Wood River Valley have welcomed me with open arms. I truly feel like a member of the family, and everyone here at Company of Fools is excited and energized by this remarkable season of work."
R.L. Rowsey, longtime Company of Fools artist and producer of the 23rd season, said, "We want to continue to tell stories that matter, that make a difference."
Looking to fulfill that aim, the theater group has chosen a strong start. Company of Fools will kick off the season on June 26 with Beth Henley's Pulitzer Prize-winning black comedy "Crimes of the Heart."
At the Fools Day celebration, Palmer described the acclaimed 1979 play as "a story that is equal parts comedy, tragedy and family redemption."
In it, the three Magrath sisters—Babe, Meg and Lenny—negotiate life's little tragedies, from the existential (Babe shot her husband) to the banal (Lenny celebrates her birthday alone).
The trio reunite at the clan home in Mississippi, hashing out family dysfunctions, dealing with old grudges and attempting to reconcile with themselves and each other.
"Crimes of the Heart" will conclude its run on July 13. The play fits into the overall family theme by exemplifying, as Palmer said, "the family we are born into."
Company of Fools founder Denise Simone will then assume the director's chair for the second engagement of the season, "Cry It Out" by Molly Smith Metzler, which will run from Sept. 25 until Oct. 12.
This play explores the idea of "the family we find." The story focuses on two new mothers whose common stresses and joys yield a burgeoning friendship.
Replete with wry witticisms and insightful aphorisms, "Cry It Out" paints a relatable, realistic and gently comedic portrait of motherhood and the innumerable challenges and dilemmas it poses.
From Dec. 11-29, Company of Fools will usher in the Yuletide season with "Miss Bennet: Christmas at Pemberley," a lighthearted romantic comedy by Lauren Gunderson and Margot Melcon, fit for the whole family.
Following the events of Jane Austen's seminal 1813 novel "Pride and Prejudice," the dutiful and unassuming middle Bennet daughter Mary follows in her sister Elizabeth's footsteps, seeking out an intellectual match and her own charismatic independence.
Gunderson and Melcon balance linguistic homage and comedic ingenuity to produce a work that will delight Austen devotees and Johnny-come-latelies alike.
This play contributes to the season's theme by exploring "the family we make."
Finally, examining "the family we choose," Company of Fools will close the 24th season by tackling Eleanor Burgess' drama "The Niceties," a delicately structured dissection of the internecine politics and institutions that have come to define the contemporary college student-professor relationship.
In a story that Palmer de-scribed as "ripped from the headlines," undergraduate Zoe and her professor Janine, though for all intents and purposes on the same side of the political spectrum, rapidly devolve from academic civility to heated diatribes as a conversation about a student research paper morphs into a be-all end-all debate about privilege and historical perspectives.
Palmer will direct "The Niceties," "Miss Bennet" and "Crimes of the Heart," confidently taking the reins on his first full season in the position of artistic director.
To help commemorate its 24th season, Company of Fools will launch its first-ever 24-hour theater competition. Participants in this event will be given one day to write, rehearse and finally stage a short play. The date for this event has yet to be announced.
In addition to that event and the four full-stage productions, Company of Fools will once again offer a professional play-reading series, providing audiences with exclusive glimpses into the actorial process.
Though the full season of readings has yet to be confirmed, the company has announced a reading of Robert Lee and Jerome Lawrence's 1969 play "The Night Thoreau Spent in Jail."
This reading will tie into one of The Center's upcoming Big Idea projects, which relates heavily to the works of American transcendentalist Henry David Thoreau, and in particular his cornerstone opus "Walden."
Tickets for Company of Fools' 2019-20 mainstage productions are now available for purchase. Visit sunvalleycenter.org, call 208-726-9491 or swing by The Center's Ketchum location at 191 Fifth St. E. or the Liberty Theatre in Hailey at 110 N. Main St. to buy tickets in person.