As the COVID-19 pandemic began to ramp up in the Wood River Valley, the Blaine County School District announced on March 14, well over a month ago, that it would be sending students home and switching to remote teaching platforms.
The weeks ticked by and the initial resumption date of April 6 grew increasingly unrealistic, until finally the district announced the closure would remain in effect for the rest of the school year.
Despite the disruption, teachers at the valley's numerous schools, covering all topics and age groups, have been working tirelessly to provide children with the best education they can under the circumstances.
Thanks to communication technology, this is much easier to achieve than it would have been even five years ago. Students can video-chat with teachers, upload assignments online, collaborate remotely on group work and more.
While it may be easy to imagine how a teacher might go about assigning math problems and writing exercises, the question of how teachers in the arts are adapting yields less obvious answers.
Teachers of visual arts, performing arts, music and other creative fields have, appropriately, had to think creatively themselves to keep kids engaged, productive and artistic during the time of coronavirus, each discipline facing unique hurdles to overcome and finding equally unique solutions.
Art
"First of all, you have to assume no one has any supplies," said Danica Robrahn, art teacher at the Ernest Hemingway STEAM School in Ketchum. "As we were waiting for the official word on how this would affect us, my initial anxiety was how can I take what I'm doing and make it equally accessible for everyone? Some families may have lots of supplies, others may not have any. As an art teacher, I have to assume no one has anything in order to take the most equitable approach. Once we've done that, we can start putting out creative challenges and projects."
That is precisely what Robrahn—or Ms. Danica, as her students call her—has done. Using a combination of Google Docs and Artsonia.com—a student art gallery website—Robrahn has been producing a number of different art assignments for different ages (she teaches kindergarten through sixth grade), each requiring the bare minimum of artistic materials, but not the bare minimum of creative engagement.
"Normally we do clay projects this time of year. I can't really send kids balls of clay to shape and have them bring it back in for me to fire and then send it back out for decoration," she said. "Instead, I'm trying to come up with activities they can do anywhere. It's a challenge in its own way, for me and for them, in a good way. It's an exercise in flipping your perspective and getting creative."
For her youngest age bracket, Robrahn has created a fun color wheel challenge to get the children thinking about how colors relate to one other, how they mix and how they look together.
Her assignment is simple for the young students: make a color wheel out of household objects. Find the primary colors (yellow, red and blue), then find the colors you get when you mix the primaries together (orange, purple and green).
The aim is to get kids to notice color in a meaningful way, to get them to consider how and why these objects have gained their color and why certain colors look good next to each other.
The projects get more advanced for the upper age brackets, but the methodology is essentially the same for Robrahn: create projects that anyone can do with or without an abundance of supplies and that get the artistic juices flowing.
"Art is basically a multivitamin for our mental health," she said. "When things get crazy—as they have now—what do we do to deal with it? We exercise, listen to music, repair something. We tap into the 'special' subjects. [Hemingway school uses the term "specials" to refer to art, music, P.E., engineering and design classes.] These are things we do for our well-being. Even just personally, the time I spend working on my samples, building these projects, it's time I'm not looking at a screen, it's a break from the weirdness."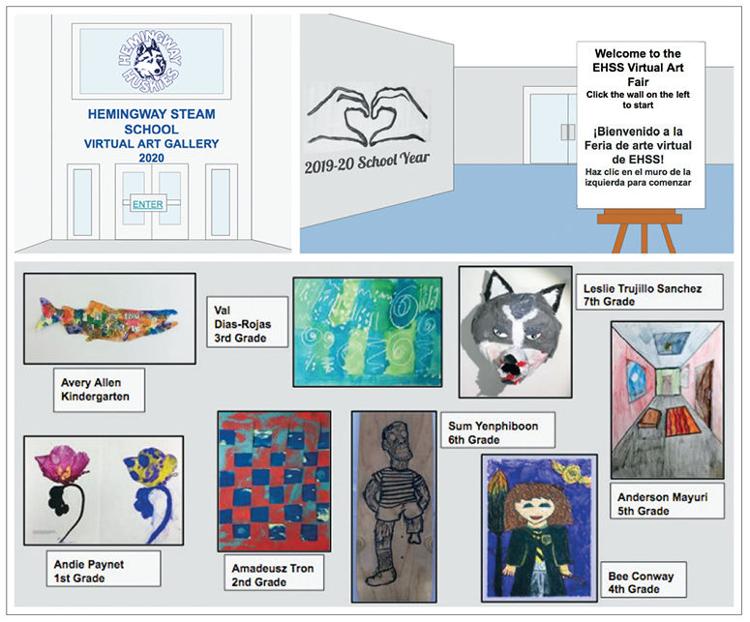 Last Thursday, April 16, was supposed to be the date of the school's annual art and literature fair, which showcases works by every student in the school. Under present restrictions, this fair was among the many programs and events of its ilk to be nixed, but Robrahn is nonetheless working to create an online version.
Even if compromises like these fall a little short of the real deal, the point is that everyone is adapting and working hard to make the best of a bad situation. Robrahn said she has been floored by the efforts of her colleagues, both in the arts and in other subjects, both at Hemingway and other schools.
"We are so fortunate," she said. "Everyone I'm working with, the teachers are just blowing me away with all the hard work they're doing, and the students know we're making this effort."
Orchestra
Through her projects, Robrahn is engaging her students remotely to ignite that creative spark on a personal basis for each child, tackling what she called "the art of human connection"—a tricky thing to foster remotely. Things get even trickier with ensemble activities, but those teachers are taking each hurdle head-on as well.
Ellen Sanders leads the orchestra at Wood River Middle School in Hailey. Year-end concerts have been called off and the students can no longer get together to practice as an ensemble with a conductor leading them, but that doesn't mean music cannot still be a major part of their lives. Sanders is making sure it stays that way.
Using an online music teaching tool called SmartMusic, Sanders is keeping her kids busy. Fortunately, the orchestra members were all able to take their instruments home. As long as their parents don't mind, they can keep playing to their hearts' content.
The creators of SmartMusic have responded to the COVID-19 pandemic by making their software free to teachers until June 30.
With it, Sanders can set up remote playing and practicing assignments, and her students can access digital sheet music and play along. The program even provides full ensemble backing tracks, so the students can hear how they sound as part of an orchestra.
As long as they are playing with a computer that has a microphone, SmartMusic also analyzes their tempo and pitch, noting if they have missed a note or played a little flat, etc. Sanders can then see this on her end and figure out exactly where to focus her guidance.
"It's never going to be a replacement for playing together and having a conductor in front of you, but I've been really very impressed with this program so far," Sanders said.
Patrick Herb, the band teacher for the middle school and the high school, has been using SmartMusic as a supplementary tool for some time now, and offered her many points on how to implement it constructively.
"Normally," Sanders said, "you'd start something like this with someone showing you how to do it, but we've had to change everything very quickly and the kids are figuring it out on their own. I'm so proud and so impressed with how well they've all managed it."
Of course, while the ensemble element is missing, it's just a part of the whole musical experience. An orchestra only comes together if each musician is doing his or her part, and that means honing personal skill.
"It's an interesting time for a young developing musician," Sanders said. "It's not a detriment to play by yourself. Practicing and knowing how to practice, teaching yourself how to improve, that's a skill in and of itself. This is about learning how to hear yourself, reflect, make adjustments and make another attempt.
"For me, it's a long-term approach to teaching students how to teach themselves, teaching the art of practice. If we can muster through emotionally, we're going to be so hungry to play in an ensemble again when this is all over."
The transition has been difficult and there are a few kinks left to be worked out. Sanders, though, is nothing but optimistic and enthusiastic. Primarily, she said, she has been thoroughly impressed with the reaction and dedication of her students, but another significant factor has been community support.
"I don't know about other communities and other school districts, but I have had nothing but support from the school and the community," she said. "This is a community that truly supports the arts. They don't just say it, they do it. I'm really proud to be a part of that, and the kids are learning very positive lessons from that.
"They learn that it's not about being a superstar, it's about sharing your music. Music is way more powerful than 'American Idol.' It's healing for the person creating the music and for the person hearing the music. Hopefully, students are finding it to be healing for them and for the people who hear them play. This is one of those times when we all really need that."
Music and dance
The members of the Wood River Middle School orchestra are hopefully finding some solace in their ability to create music. For those who do not have access to an instrument, though, the power of music can still be palpable.
Over at the Sun Valley Community School, elementary school dance and middle school music teacher Megan Mahoney has been refocusing her curriculum to heighten the emotional impact of music in the lives of her students.
Between her dance and music classes, Mahoney works with every student from kindergarten through eighth grade, plus a handful of upper school students as she helps with theater productions and other mentoring. That's somewhere in the vicinity of 250 students.
With that large a number and that wide an age range, her approach to teaching has always had to be varied and diverse, but now that she is teaching remotely, that has only been magnified.
"It's definitely interesting," she said. "I was really panicked at first. How do you maintain that collaborative nature and inherent closeness you get working in the arts if it's not something you've ever done virtually? Then I got thinking seriously about what role the arts should be playing in these kids' lives at this time."
Mahoney quickly determined, like Sanders, that music should be a source of solace during these challenging times. Unlike the students in Sanders' orchestra, however, most of Mahoney's students don't have access to musical instruments now.
"We're doing lots of listening assignments, thinking about the way music is impacting your day-to-day life, understand how people express feelings and emotions through music," she said. "They're already spending a lot of time streaming movies and TV, so I'm asking them to think critically about how filmmakers use music to influence a scene, to convey information about a character.
"I'm also trying to make it a fun thing. They have a whole lot going on right now, and art shouldn't be a burden, it should be uplifting. I want to pump art and joy into their lives."
When the isolation order came into effect, Mahoney's students were partway through a group songwriting project, which had to be put on hold for a while. Even without access to conventional instruments, though, the students don't have to stop making music.
Mahoney recently assigned them to create their own drum sets, relying entirely on items they could find around their houses, the only requirement being that they couldn't use a real instrument.
"Kids got really creative, finding all kinds of things to build diverse sound profiles. A few with access to recording equipment even created backing tracks. This week I'm having them write raps. It's their first collaborative assignment, so we'll see how it goes."
Mahoney said her elementary school dance work is posing a bigger challenge.
"In dance, I'm normally there with them teaching choreography," she said. "How do I do that virtually? Plus, these are young kids who can't get online by themselves. They need supervision."
All these challenges presented themselves, but Mahoney found a solution. Twice a week, she has been live-streaming dance instruction on the Community School's Facebook page. She says she misses the interaction, but it seems to be working.
"I've been getting 150 live viewers—which is a little weird, because I only have 125 students in dance. But if you have kids and you follow our Facebook page, anyone can join in. You don't have to be a student to watch it."
What she said is most important, however, is that the students are engaging and, based on what they've told her, they have found art to be a gentle reprieve from the constant stressors of the new normal, and that is something that people of all ages can appreciate.
"In this time, people are turning to people who make art. That's where the support comes and I hope that lingers and we remember why art is important. It says a lot for our community that art is being recognized and appreciated as a core part of education. The kids need that right now, that creativity, that escape. I feel blessed to work at a school that values the arts and is so supportive."
That was a recurring theme for Mahoney, Sanders and Robrahn: the incredible community support. As Robrahn said, "art is a multivitamin." It provides comfort, wisdom, insight and strength. When things get difficult is when that multivitamin is most needed—by small children, teenagers or adults. With the continuing support of their schools, colleagues, community members and students, the art teachers in Blaine County are making sure kids are getting their multivitamins.