An enchanting romance, an intriguing mystery, side-splitting comedy, stunning visuals, genuine chills and thrills, an iconic musical score, endless ingenious plot twists, an all-star cast of Oscar-winners—it's such a lengthy and varied list, only one movie could tick all the boxes effortlessly, organically and flawlessly: 1963's "Charade."
The classic stars Audrey Hepburn and Cary Grant in a truly one-of-a-kind cinematic outing, and here in the Wood River Valley, moviegoers will have the opportunity to see it for free on the big screen at Magic Lantern Cinemas in Ketchum, starting Friday, April 30.
In February, the Magic Lantern presented free screenings of "Casablanca," and it was so popular, owner Rick Kessler was itching to find an appropriate follow-up.
"'Casablanca' was an enormous success," Kessler said. "I've been trying to hunt down a movie that would more or less guarantee that if you came to it, you would enjoy it—that's 'Charade.' It's really got it all."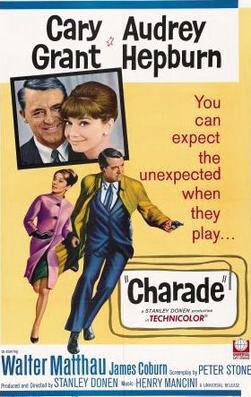 Hepburn stars as recently widowed Reggie, who travels to Paris to settle her estranged husband's accounts in the wake of his murder. She is soon hounded by three mysterious strangers (played by James Coburn, George Kennedy and Ned Glass), who are after a fortune her husband had supposedly stolen. The director of the CIA's Paris branch office, played by Walter Matthau, is equally interested in the missing fortune. Enter Cary Grant, who has more tricks and deceptions up his sleeve than all the others put together, and Hepburn's Reggie has a whole lot of mystery, danger and intrigue to navigate.
Critically acclaimed upon its release, "Charade" has rightfully sustained its popularity for nearly 60 years now, and in an increasingly rare fashion, truly does have something to offer to every audience member. The 1963 New York Times review of the film described it as halfway between a screwball comedy and a Hitchcock thriller, though this description falls short of capturing what can only be characterized as a truly unique, innovative contribution to genre cinema.
"Few thrillers create as much sheer joy along with nail-biting suspense as 'Charade,' in which Cary Grant spoofs his Alfred Hitchcock persona, Audrey Hepburn exudes her usual magnetic charm, and the Paris backdrop is as scenic as ever," Kessler said. "We guarantee if you don't love this movie, we'll give you your money back!"
"Charade" will show nightly at the Magic Lantern with free admission starting Friday. For showtimes and details of the theater's COVID-19 safety protocols, visit mlcinemas.com.