Standing by the large windows at the entrance of the her gallery, Andria Friesen points to a construction site across the street. The piles of lumber and steel were once her original Sun Valley gallery back in 1986-1996. She came with two maxed-out credit cards, not knowing a soul in the area. Soon, it will be a collection of penthouses.
The Gallery Walk this upcoming Wednesday will be her last. Effective Jan. 1, she is stepping down as owner of the Friesen Gallery.
For Friesen, Ketchum's regular Gallery Walks has been a way to connect with this community.
"It's not about retail, it's about sharing and exposure," Friesen said. "It's a great way to engage."
As she walks through the gallery, her footsteps echo. Her final exhibition, "Increscent," is still in boxes. Workers paint the walls a new shade of gray.
Friesen is closing this chapter of her career as she started it: with Lawrence Fodor. When she opened the gallery, he was the first artist she invited to join her roster, and she's collaborated with him ever since. Working with an artist that long forms a connection, Friesen said, and she backed Fodor even as his pieces delved into abstraction.
"Sometimes artists don't push themselves in the way he pushed himself," Friesen said. "And I think sometimes dealers don't want artists to change so much. But we just kept trusting and building and building and building."
Fodor's new exhibition, "Increscent" (meaning becoming gradually greater), features mixed-media oil paintings.
"It's exquisite, evocative and intriguing, and its definition is a sublime metaphor for our relationship," Friesen said.
Fodor said the work is a celebration of drawing from the past as well as working in the moment.
"These paintings are about gathering, accumulating and integrating diverse visual elements to fuel expansive growth and possibility," he said. "'Increscent' is cumulative, deepening, waxing--the act of becoming full."
Along with Fodor, Friesen Gallery also holds the longest-running representations nationally for Christopher Brown, Steve Jensen, Tom Lieber and William Morris.
She sits next to the fireplace. When asked what led her to her decision to step down, she jokes, "TikTok."
It's a brave new world out there. Even before COVID, Friesen felt the tide turning, with the new generation of artists rising to the fore.
"I think that's so exciting," she said. "I feel so strongly about the artists that we represent. They deserve that new vision and I don't have it. I could learn it, but I still wouldn't be living it."
She sent letters out to their artists asking if they would still like representation under new management.
"All the artists said yes except for three, and those three said, 'Hell, yes,'" Friesen said.
Yanna Lantz, who has been director for the past four years, will be taking over.
"[Friesen] is rightfully a legend in Sun Valley and beyond, having built an incredibly respected business from nothing but sheer drive and a remarkable passion for the arts," Lantz said.
As of Jan. 1, the gallery will be called Friesen + Lantz Fine Art.
"I'm so proud and excited for her," Friesen said, tearing up. "It's her time. I've had mine."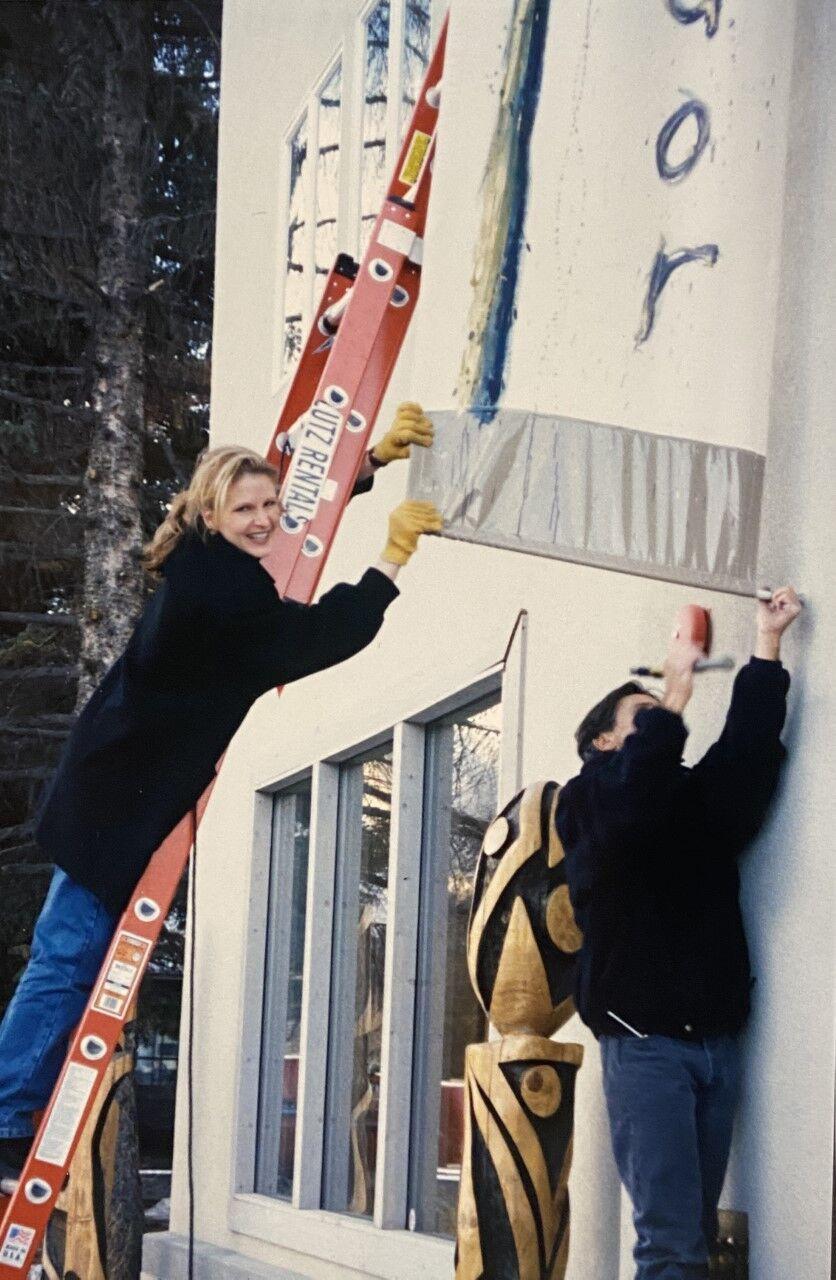 She flips through a scrapbook. Over the years, she watched the local gallery scene transform from a strong Western focus to "art for the sake of art." Helping design the current building, she was on the jobsite every day.
Back in the early days, Yoko Ono visited. The tour of John Lennon's artwork only traveled to three locations in North America. Friesen Gallery was one of them. They strung up the first banner across Main Street that wasn't affiliated with Sun Valley Co. Of the seven exhibitions worldwide, Sun Valley was the only location to which Yoko Ono brought her son, Sean Lennon. Friesen went sledding with Sean.
She said internationally recognized artists seek out Sun Valley because of its surroundings.
"This natural beauty plays a role in your posture, your breathing," she said.
Owning a gallery in Seattle for 23 years, Friesen knows firsthand the difference between someone at an art gallery who has been stuck in traffic versus someone who just got done hiking Bald Mountain.
"They receive it differently and much more deeply," she said.
She tells of a Jonathan Barofsky sculpture in front of the Seattle Museum of Art, "The Hammering Man," around three stories high. The sentiment is that art is for the working class. In the gallery, she jokes that long words are against the law.
"Through education, through engagement, you make it approachable and accessible," she said.
Her mantra has always been to pay it forward. When she has given lectures for the area, she encouraged all ages to participate. Once, she invited a number of elementary-schoolers come pick out their favorite pieces of art and share why.
Looking forward, she is still unsure what her next adventure will be.
"Frankly, I'm surprised that I'm OK in not knowing," she said. "But it will overwhelmingly involve this community."
The Gala Reception for "Increscent" takes place Dec. 29, 5-7:30 p.m.
"Gratitude is an attitude and I've got it in spades," Friesen said. "I can honestly say I've taken nothing for granted."