Most Americans have heard of Ernest Hemingway. And, even now, 60 years after his death, many can say they have read one of the Nobel Prize-winning author's short stories, novellas or novels. They may have heard of "For Whom the Bell Tolls"—the acclaimed novel about finding love in the ruin and violence of the Spanish Civil War—and that Hemingway liked to hunt, fish and drink.
But, one might venture to say, most Americans do not know that "Papa"—as he was known to those close to him—took his last steps, his last breaths and his last sips of wine in the shadow of the mountains surrounding Ketchum. On July 2, 1961, in the front foyer of Hemingway's house along the Big Wood River just north of town, the writer's grand adventure came to an end.
---
Papa discovers Idaho
Ernest Hemingway first came to the Sun Valley area in September 1939. He had been invited to stay at the new Sun Valley Lodge as a guest after Gene Van Guilder—the publicist for the fledgling resort—determined the author and outdoorsman would enjoy the hunting in the area and might generate some good press.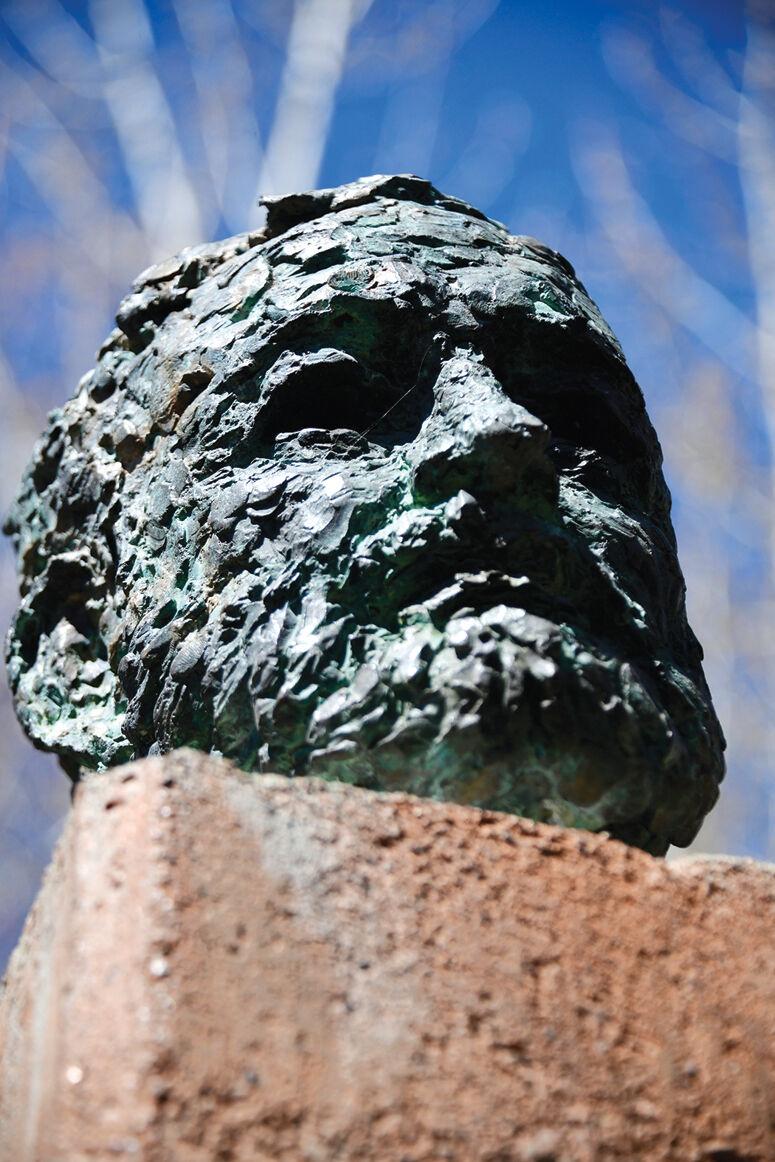 In those early years, Hemingway was at a high point in his writing career, enjoying a certain degree of fame as he worked on "For Whom the Bell Tolls," which some critics have hailed as his best full-length novel.
Hemingway immediately met a band of friends in Sun Valley. The group included Sun Valley Resort's chief guide, Taylor Williams, resort photographer Lloyd Arnold, Arnold's wife, Tillie Arnold, and eventually, a young Picabo rancher named Bud Purdy.
In the fall of 1939, Hemingway stayed with his girlfriend, writer and journalist Martha Gellhorn, in Suite 206 of the Sun Valley Lodge, which he soon dubbed "Glamour House." Hemingway worked diligently on "For Whom the Bell Tolls," and soon became enamored with duck hunting at Silver Creek, near Picabo, and pheasant hunting at points south, near Shoshone, Dietrich and Gooding.
Purdy, who lived and worked in Picabo, said in a 2011 interview that he got to know Papa in 1940. They became hunting buddies.
"He was a macho guy," Purdy said. "But he liked the guides and the common people, not the money people."
Purdy said Papa liked Idaho in part because the landscape reminded him of one of his favorite places in the world—Spain.
In November 1939, after Van Guilder died in a hunting accident, Gellhorn left for Scandinavia on a work assignment. Through the rest of an Indian summer, Hemingway hunted, read and completed numerous chapters of "For Whom the Bell Tolls" before leaving Sun Valley in December to return to his home in Cuba.
Hemingway returned to Sun Valley Resort the following September with Gellhorn and his three sons, Jack, Pat and Gregory. He completed editing work on "For Whom the Bell Tolls," played tennis and hunted birds, at times with a new friend, actor Gary Cooper. He and his family returned again in the fall of 1941. Then came World War II and a five-year hiatus from Sun Valley.
---
Writing and hunting
Until the fall of 1946, Hemingway was unable to get back to Idaho. Upon his return, he and his fourth wife, Mary, stayed at MacDonald Cabins, on the south side of Ketchum near Trail Creek. He worked on "The Garden of Eden," a novel he never finished but was ultimately complete enough to be published posthumously in 1986. Papa returned to Ketchum and Sun Valley in the fall of 1947 and stayed through Christmas that year. During that stay, he enjoyed the company of Hollywood stars, including Cooper and Ingrid Bergman, who played the lead roles in the film version of "For Whom the Bell Tolls."
At times, he continued work on "The Garden of Eden," said Hemingway scholar Marty Peterson, a former special assistant to the president of the University of Idaho.
Papa kept returning to Idaho because he liked "getting away from it all" and could be "rather anonymous," Peterson said.
In 1946 and 1947, Hemingway's health started to fail. His doctor in Sun Valley forbid him from going hunting in the mountains; he had put on weight and his blood pressure was high. Still, he ventured out to shoot ducks and pheasants.
After leaving Idaho in January 1948, Hemingway did not return for a decade. During those times, he was busy with numerous projects and settled into his life in Cuba, where he pursued perhaps his greatest outdoor passion, deep-sea fishing. He wrote "Across the River and Into the Trees" and "The Old Man and the Sea," a novella that won the Pulitzer Prize in 1953.
In the fall of 1958, Hemingway returned to the Wood River Valley, where he continued to enjoy hunting. According to friend Tillie Arnold, now deceased, one day at Silver Creek, Papa shot and injured an owl in the wing, thinking he could use it as a live decoy to attract and shoot crows for sport. The owl ultimately became a pet, named "Owlny," but was eventually set free, the story goes.
---
The writer buys a hideaway
In 1959, Ernest and Mary Hemingway purchased for $50,000 a house on the north side of Ketchum along the Big Wood River. It had excellent views of the flowing water and the nearby Boulder Mountains.
To a friend, Gen. Buck Lanham, Hemingway wrote: "This place ... was a wonderful buy. I plan to live here in the shooting months, which correspond to the hurricane months and the early northers in Cuba. My health and Mary's needs a change of climate from the subtropics for part of each year."
While residing at his Ketchum estate, Hemingway worked on "The Garden of Eden" and did a substantial amount of editing and rewriting on "A Moveable Feast," a lively memoir of his early days as a writer in Paris.
But all was not well. Friends and family noticed changes in Papa as he battled various health ailments. And, he was having trouble writing.
Then, on that July day, Papa was found dead from a self-inflicted gunshot wound. He was 61.
"The ending of his life was kind of traumatic to me. He was such a great guy," Purdy said in a 2005 interview. "I guess if he couldn't write, it got so life wasn't worth living for him."
His friend Tillie Arnold wrote this in her memoir "The Idaho Hemingway": "I truly felt that for Papa it was a relief. He could not be the man he wanted to be, and he did not want to be a mental cripple. ... As I told him face to face, I did not blame him for doing what he did."
Hemingway was buried in the Ketchum Cemetery, not far from the grave of his friend Gene Van Guilder.
About five years later, a memorial to Hemingway was erected east of Ketchum, near the Sun Valley Lodge. It is a simple bust of the author, carrying an edited excerpt from a eulogy he wrote for Van Guilder's funeral. It starts with the words, "Best of all he loved the fall."
---
Papa's spirit lives on
In the living room of Hemingway's Ketchum house, there are two African trophy heads and a box of old Remington shotgun shells, relics of days on the hunt.
In the stairwell, there is a strangely mesmerizing oil painting of a scene from a Spanish bullfight. The piece is signed by artist Waldo Pierce, who traveled with Hemingway in 1923 to Pamplona, Spain, for the Fiesta of San Fermin, the so-called "Running of the Bulls" festival made famous a few years later in the novel "The Sun Also Rises."
In the master bedroom, standing out among pieces of antique luggage and travel gear, there are photos of a bearded, gray-haired Hemingway with some of his beloved cats.
The most poignant reminder of Hemingway, perhaps, is an old Royal typewriter stationed in the second bedroom. It sits solitary on an elevated desk next to a north-facing picture window, before which Hemingway would stand and work as he gazed out over the Boulder Mountains.